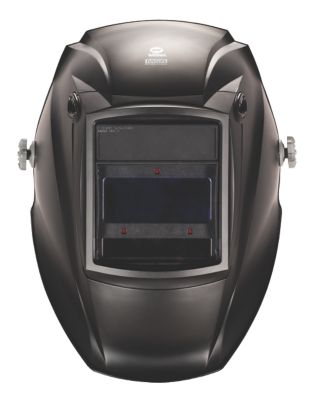 Welding Helmets and Adapters for Hard Hats MSA and Miller welding helmets and hard hat adapters are designed specifically for use with many MSA hard hats. A top level of protection to help prevent eye injury and skin burns with the options of passive and active welding helmets designed to protect and perform in demanding welding, cutting and grinding applications. The 'X-Mode' auto-darkening technology is one more feature to increase welding safety in all industries.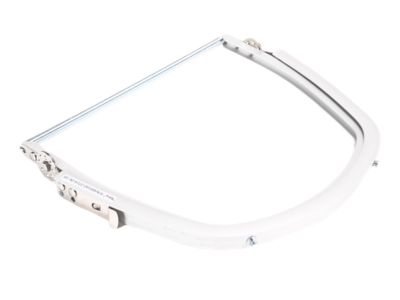 Metal Frames Metal Frames are designed and tested to perform to requirements with MSA slotted or unslotted Caps or Full Brim Hats. The coil spring offers easy loading onto helmet, while the side clips provide quick and simple attachment for V-Gard Visors. Designed for elevated temperature enivronments!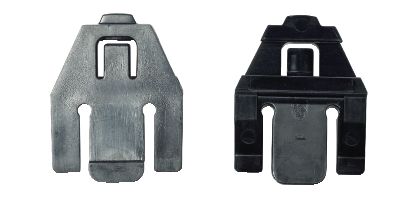 V-Gard® Accessory System Replacement Parts Use only genuine MSA V-Gard Accessory System replacement parts to help ensure compatibility and compliance. MSA does not warrant, guarantee, or promote the use of components manufactured by other companies when used in conjunction with MSA products.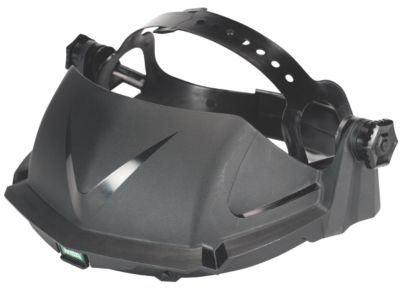 V-Gard® Headgear General Purpose and Elevated Temperature - Extended Crown V-Gard Headgear, in combination with wide range of V-Gard Visors, offers a comprehensive face protection system that can be used when a helmet is not needed. Available in General Purpose and Elevated Temperature Versions (Extended Crown, tested to withstand heat up to 400°F/204°C).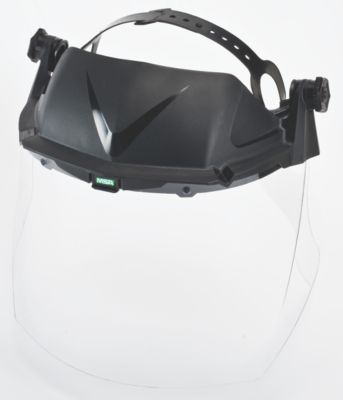 V-Gard® Headgear Kits General Purpose and Elevated Temperature Headgear and visor all in one convenient kit. Helps with inventory management. Great for new hires.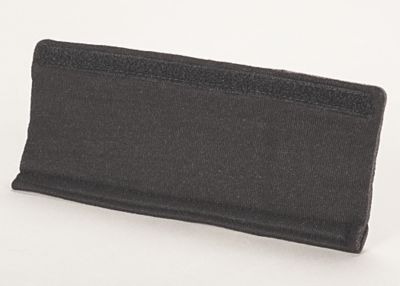 V-Gard® Headgear Replacement Sweatband Sweat-wicking replacement sweatband for use with V-Gard Headgear. Helps keep workers cool and comfortable.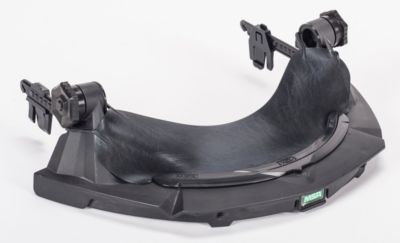 V-Gard® Frames The standard slotted frame works ideally with any MSA slotted  helmet. The universal frame featuring a heavy-duty, flat, rubber strap can be used with slotted and non-slotted MSA helmets.  With the unique sloped frame design material slides off the frame and out of site. The optional debris control creates a tight seal between helmet and frame. The elevated temperature versions withstand temps up to 350ºF (176ºC).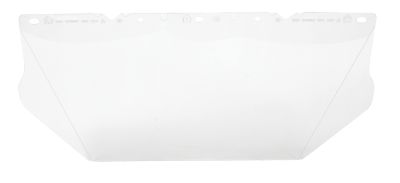 V-Gard® Visors PC for General Purpose MSA polycarbonate visors reliably protect against impact, chemical splash and UltraViolet radiation. They are the perfect solution for general and basic applications and can be worn with helmet-mounted ear muffs.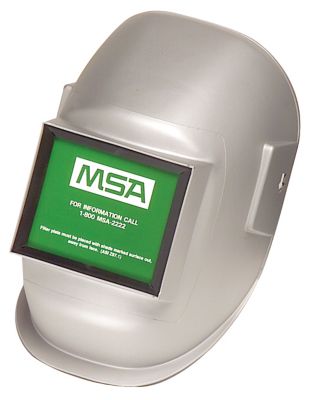 Welding Shields Crafted to protect a welder's eyes and face, our thermal plastic welding shields safeguard against infrared burns, flying sparks and other hazards. When protection from overhead hazards is required, our versatile shields may be attached to protective headwear with various MSA accessories. Our protective eyewear fits over many prescription glasses and features a shade #5 lens.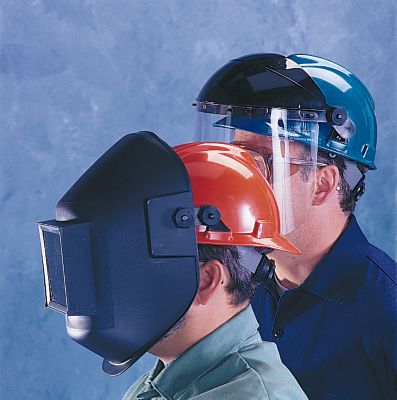 Adapter Kits for Welding Shields Adapter kits permit the easy attachment of Welding Shields and Sparkgard Faceshields with visors to MSA's helmets.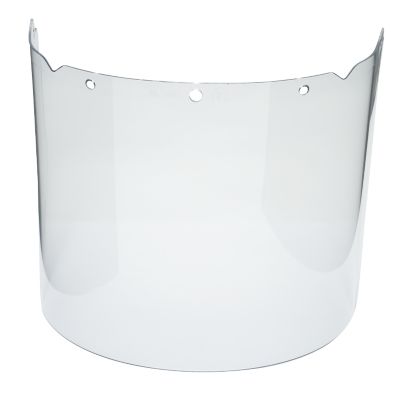 V-Gard® Propionate Visors for Chemical and Splash V-Gard Propionate Visors provide impact protection, and are good for those applications where chemical splash hazards also exist. They offer increased impact protection and superior optical quality over acetate visors.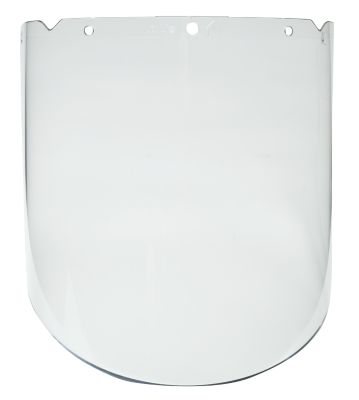 V-Gard® Visors PC for Heavy Duty Purpose MSA molded polycarbonate visors offer superior protection from flying debris, splash, UV radiation and molten metal. Being molded makes them optically correct, and helps ensure clear vision and reduced eye fatigue. The anti-fog and anti-scratch coatings increase comfort and improve wear.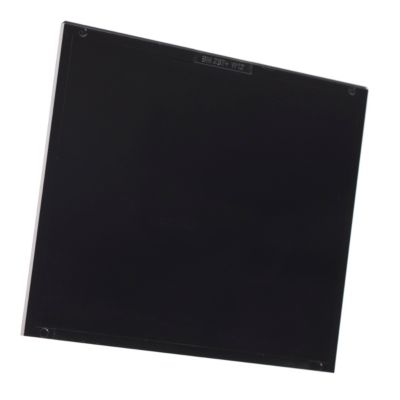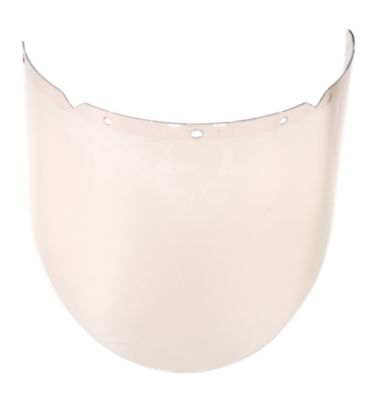 Visor for Radiant Heat/Elevated Temperatures These special visors are thick, molded and reflective coated to protect against damage from impact, radiation and heat. The reflective coating reflects at least >60% of InfraRed from the surface of the visor, away from the wearer. Ideal for hot working conditions, such as foundries, steel mills, and blast furnaces.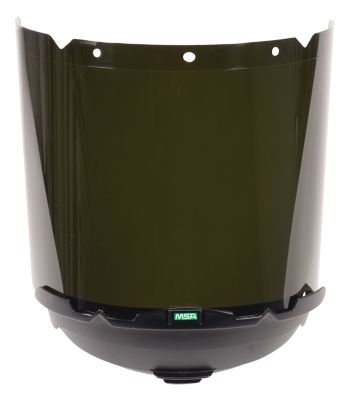 V-Gard® Visors for Welding, Cutting and Brazing Applications V-Gard polycarbonate shaded visors are thick and molded to protect against damage from impact, elevated temperatures, weld spatter and infrared (IR) radiation. Ideal for autogenous welding, metal pouring, gas soldering and light cutting/brazing, they're engineered for heavy-duty use.
V-Gard® Accessory System Kits V-Gard Accessory System Kits are designed to offer easy customer solutions for a variety of needs, all in one convenient box.  V-Gard Cap and Accessory System Kit contents: * White V-Gard Cap with ratchet suspension * V-Gard Frame for Slotted Caps * V-Gard PC Visor, clear  V-Gard Accessory System Kit contents: *  V-Gard Universal Frame for Caps *  V-Gard PC Visor, clear (NOTE: does not contain a MSA Safety Helmet)  V-Gard Accessory System Forestry Kit contents: * Hi-viz orange V-Gard Cap with ratchet suspension * V-Gard Frame for Slotted Caps with Debris Control * V-Gard Mesh Visor Nitrometer * V-Gard Retractable Chin Protector * Left/RIGHT, HIGH (NRR 28 db) Cap-Mounted Earmuffs   V-Gard Accessory System Arc Protection Kits * White V-Gard Cap with ratchet suspension (PN 475358). * V-Gard Frame for Slotted Caps, with debris control (PN 10115730). * V-Gard Arc Nitrometer with V-Gard Standard Chin Protector (PN 10118480); must be assembled by user and worn together to achieve calorie rating.  
V-Gard® Arc Visors These PC visors are engineered to help protect against impact and dangerous arc flash hazards. They are perfect for electrical workers and electricians working with high-voltage connections.  Note: V-Gard Arc Visors are intended to be used only with dielectric frames and helmets.

V-Gard Chin Protectors V-Gard Chin Protectors work as a system with select V-Gard Visors, known as nitrometers, to help provide extra protection from impact and splash hazards to face and neck.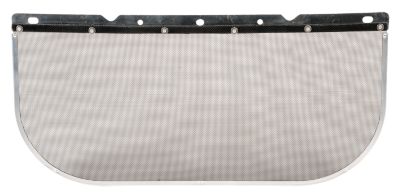 V-Gard® Mesh Visors for General Purpose Applications MSA V-Gard Mesh Visors provide maximum ventilation in humid working conditions. Lightweight and durable – great for outdoor applications such as brush clearing and trimming. Ideal combination with helmet-mounted ear muffs.
Defender®+ Frames, Headgear and Visors Our goal at MSA is to continue to provide the most technologically advanced products to meet your ever-changing safety needs. Unless otherwise noted, the Defender products listed on this page are slated for phase out once corresponding V-Gard System face protection products are available as replacements. Users will be given ample notice of discontinuation via our newsletters and website once these Defender products are slated for discontinuation.