MSA XTIRPA™ MSA XTIRPA confined space entry systems allow for vertical or horizontal entry into many common confined space applications such tanks, vessels, transformers, sewers & manholes. These systems are lightweight, portable and easy to setup allowing for users to save time throughout the workday.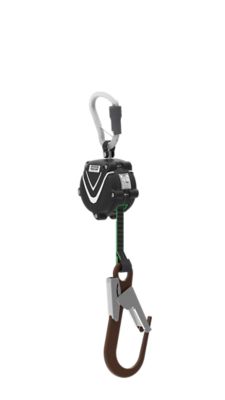 V-SHOCK™ Mini Personal Fall Limiter The V-SHOCK Mini Retractable Lanyard is designed to take a beating in the roughest environments and maintains consistent performance under extreme use from one project to the next. It is one of the most compact & lightweight Mini SRLs in its class helping to decrease worker fatigue throughout the workday.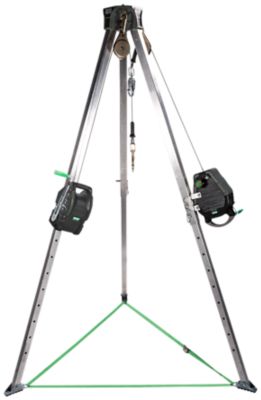 Confined Space Entry Kits Tripod confined space entry kits provide simple ordering with all the necessary components for a complete safety system. Kits are ideal for applications in tanks, manholes and other vertical entry work practices.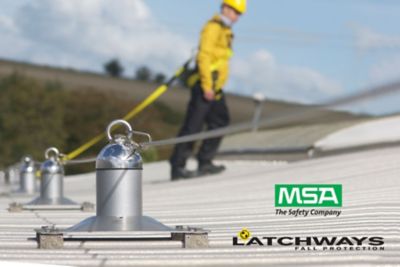 Latchways® Horizontal Lifeline Systems MSA's range of Latchways® Engineered Horizontal Lifeline Systems, incorporating the patented Constant Force® Post, can be deployed across virtually all the major roof types including standing-seam, composite, built-up-on-site, secret-fix and membrane. Fixing the Constant Force Post does not damage the integrity of the roof and therefore will not compromise the roof guarantee.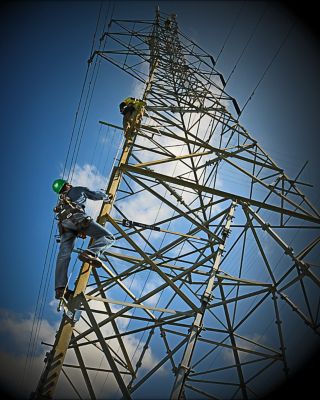 Latchways® Vertical Lifeline Systems MSA's range of Latchways® Engineered Vertical Lifeline Systems for ladders provide outstanding personal safety for individuals working on any type of fixed tower ladder, industrial ladder. Applications include cranes and silos. MSA's Latchways Engineered Vertical Lifeline Systems for towers, have the inherent flexibility to be configured for use on virtually any design of power transmission tower.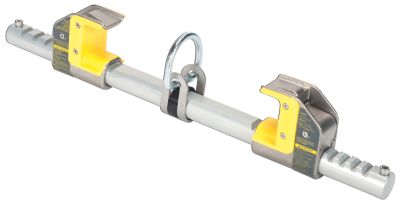 Workman FP Stryder™ Beam Anchor Workman FP Stryder™ Beam Anchors quickly and easily attach to an I-beam flange without the need for any tools.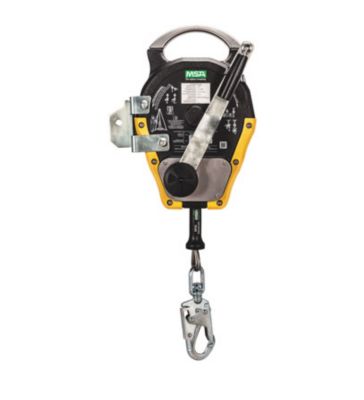 Workman® Rescuer MSA's Workman Rescuer provides fast, easy and intuitive fall protection with integral bi-directional retrieval capability. Not only does the Workman Rescuer arrest the fall, its retrieval capability allows the fallen worker to ascend or descend to a safe location. This durable, economical addition to the Workman Series of products offers fast installation and setup, ideal for applications where time and ease of use are a priority. The Workman Rescuer is also a stand-alone retractable device, as the carrying handle may be used as an anchorage attachment.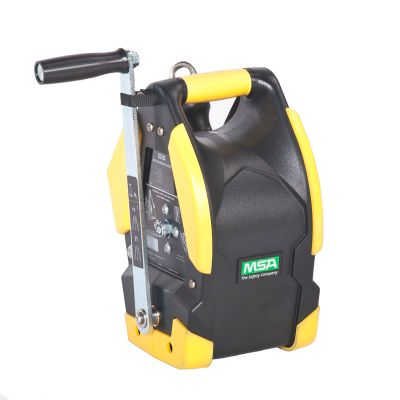 Personnel/Material Hoists The new MSA Workman Winch is rugged, versatile and economical for lifting, lowering and positioning personnel and materials within confined space applications. Designed for maximum 400-lb (182 kg) workload for personnel and 620-lb (282 kg) for materials, the Workman Winch is built with tough thermoplastic housing to ensure high performance within the harshest environments. Winch offers integral, ergonomic carrying grip and unique, foldable handle for simple storage. Patent-pending bracket design allows for easy, rapid assembly.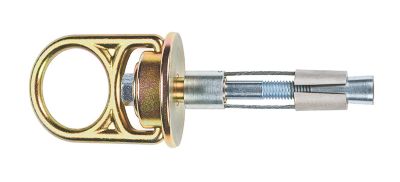 Anchorage Connector Components MSA's Anchorage Connector Components for use in fall arrest and confined space entry applications.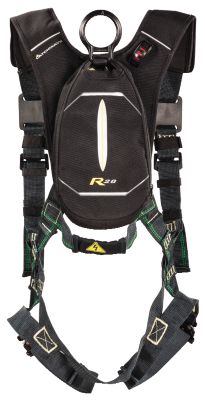 Latchways Personal Rescue Device® The MSA Latchways® PRD is a lightweight, unobtrusive personal rescue device that is an integrated full body harness system for self-rescue. In the event of a fall the device lowers the person gently to the ground in a controlled descent.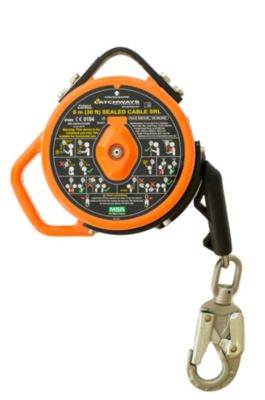 Latchways Sealed Self-Retracting Lanyards The Latchways Sealed Self-Retracting Lifeline range offers a dependable means of fall protection and has been specifically designed for use in harsh environments such as oil rigs, wind turbines and other offshore applications.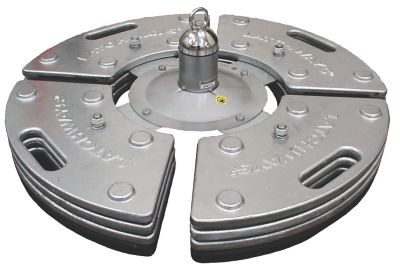 Freestanding Constant Force® Post MSA's Latchways® Freestanding Constant Force post provides assured worker safety at height where there is an occasional or temporary requirement to access flat roofs or structures.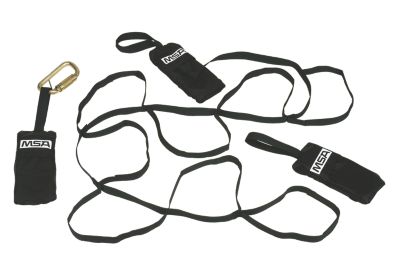 Harness Accessories MSA's Harness Accessories maximize user comfort and allow customization of harnesses.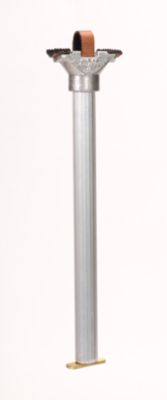 Tool Holders MSA ergonomic Tool Holder and Hands-Off Chisel Grip eliminate awkward hand positioning. Vibration absorbing technology permits faster, safer, and more accurate work.

FP5K® Tie-Back Lanyard The dependable FP5K® Tie-Back Restraint Lanyard uses an FP5K Carabiner which can be to be tied directly back to the lanyard. This product uses the Sure-Stop® shock absorber to keep fall arrest forces below 900 pounds. It's unique carabiner body shape helps avoid confusion with standard connectors not designed for tie-back applications.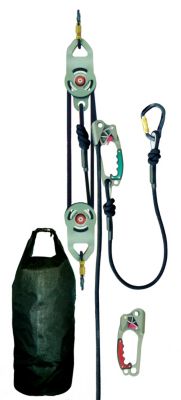 Rescue Utility System The Rescue Utility System is primarily used for raising and lowering people or equipment in rescue and industrial work access and ideal for confined space applications. A 4:1 rescue pulley system Pulleys are equipped with a built-in anti-reversing lock. Offers rapid deployment, is virtually maintenance free, and is rated for two-person load.
Diamond® Energy-Absorbing Lanyard Raising the standard for shock-absorbing lanyards, the FP Diamond Energy Absorbing Lanyard's light weight and streamlined design contains a strong and durable polyester sheath that's abrasion and UV-resistant. FP Diamond Energy Absorbing Lanyards connect the back (dorsal) D-ring of MSA full-body harnesses to a qualified anchorage and anchorage connector. The energy absorber keeps fall arrest forces below ANSI and OSHA limits and deceleration distance is controlled to a maximum of 42 inches.
EVOTECH® Harnesses For the latest design features that improve user comfort, ease of use, durability, and user safety, choose the  EVOTECH ® Harness. The EVOTECH harness has Nanosphere® coating on the webbing that repels grease, dirt & moisture.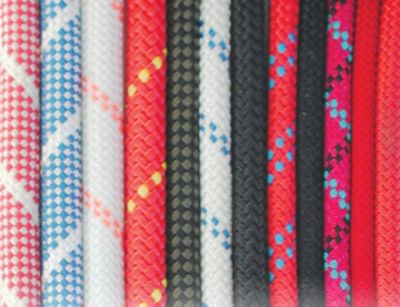 FP Rescue Ropes Superior flexibility provided by unique double-twist cable core construction gives MSA Rescue Ropes resistance four times greater than other static kernmantle ropes. Designed with load absorbing capabilities to provide additional safety in the event a dynamic force is applied.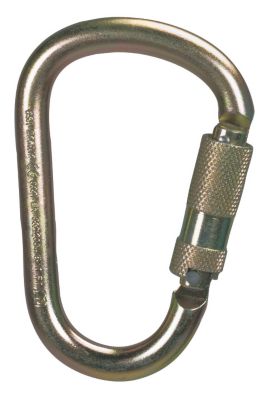 Carabiners MSA offers a wide variety of carabiners for almost every application. All carabiners have a minimum breaking strength of 5,000 lbs/22,24 kN.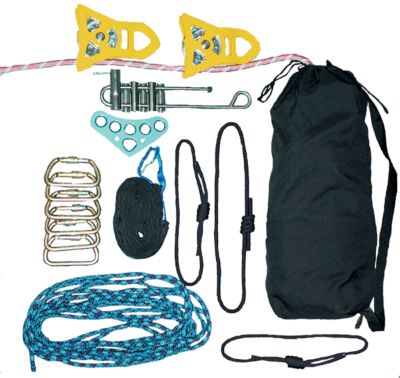 Rescue Kits A specialized rescue product designed for extreme cases in which a rescuer needs to be lowered head-first into a confined space to perform a rescue. The Confined Space/Head First Extraction System (HFES) allows the rescuer to be lowered comfortably into a confined space head first, harness the victim, and raise both victim and rescuer out of a confined space. Consists of an adjustable lifting strap, an adjustable victim strap, one pair of ankle harnesses, two carabineers, and a storage bag. This small, compact system can be used with any confined space retrieval equipment such as tripods and davits.
Sure-Stop® Energy-Absorbing Lanyard Using a tear tape design, the Sure-Stop® Energy-Absorbing Lanyard keeps fall arrest forces under 900 lbs/6kN. Energy absorbing lanyards are a component of a personal fall arrest system. They provide a means of connection between the back (dorsal) D-ring of MSA full-body harnesses and a qualified anchorage and anchorage connector.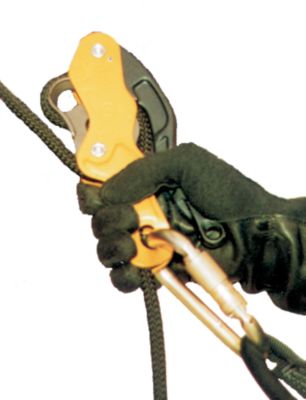 Anthron Descender The Anthron Descender is a manually operated, controlled descent device most commonly used for suspended work positioning, self-evacuation, or rescue operations. A cam assembly provides friction on the rope to hold a load or allow the load to descend at a controlled rate. The system consists of a 7/16" (11mm) rope, the Anthron Descender, and two carabiners. Proper roping and rigging diagrams are on the side of the device, which can be installed or removed at any point on the rope and has a working load of 300 pounds (136 kg).

Web Straps and Slings MSA offers several web straps and slings for use in a variety of applications.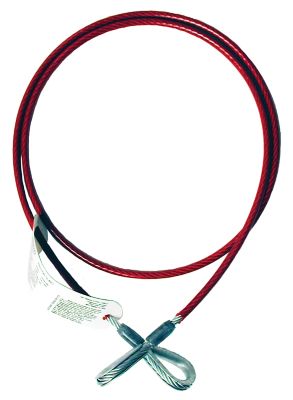 Cable Sling Intended to be used in a basket configuration only, the Cable Sling is approved for use by one person at a time with approved systems. Two strands of cable sling must be of equal length to ensure an even distribution of a load.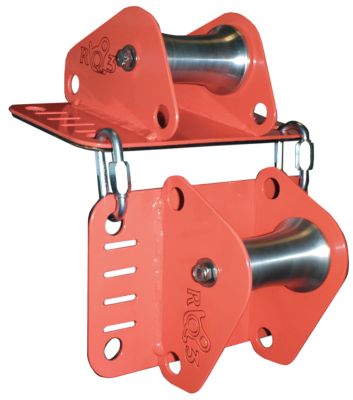 Rescue Components MSA offers many components to make rescue and/or evacuation safer and easier.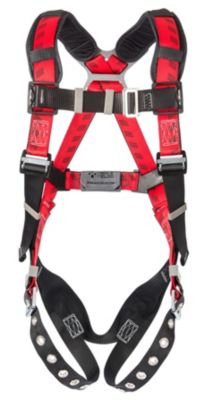 TechnaCurv® Harnesses The TechnaCurv® Full Body Harnesses offer features never seen before in full-body harnesses: Curvilinear comfort system, Visco-Elastic shoulder padding, and Sorbtek fabric on the shoulder and sub-pelvic pads. The harness is designed with downward adjusting torso straps on most models to ease fitting.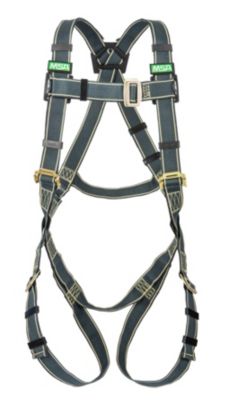 Gravity® Harnesses Gravity series harnesses meet the needs of workers in specialty environments of specific work applications such as high heat, welding, corrosion, rescue, rigging and suspension. The  Gravity® Coated Harness uses a special urethane web coating to resist stains and wear and tear that are common when working in dirty environments.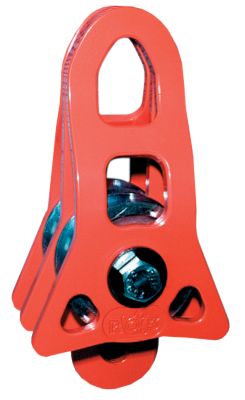 Pulleys The RQ3 Pulley and Mini-Knot Passing Pulley are designed with the professional rescue team in mind. High-grade aluminum side plates and sheaves, oilite bearings, stainless steel bolts, washers and lock nuts make the Suretyman RQ3 Pulleys some of the best available. The Mini-Knot Passing Pulley provides ample room for knots to pass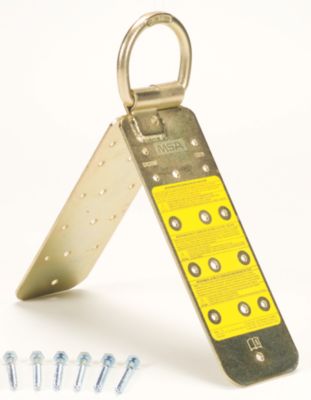 Roof Anchors Available in permanent or reusable models, roof anchors provide an anchor point for personal fall arrest systems on roofs for maintenance work, repair, and new construction.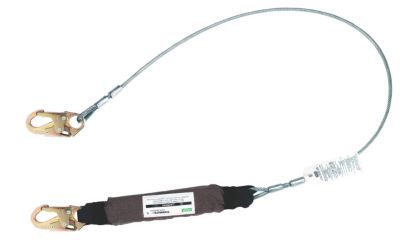 Thermatek® Energy-Absorbing Lanyard Specially designed for high-heat applications, Thermatek® Energy-Absorbing Lanyards feature a Tuffweld protective cover over the shock-absorber and a Kevlar back-up strap inside the shock-absorbing pouch. Energy Absorbing Lanyards connect the back (dorsal) D-ring of MSA full-body harnesses to a qualified anchorage and anchorage connector.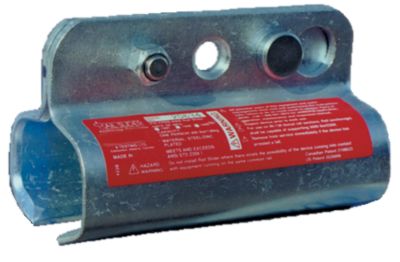 Rail-Slider Anchorage Connector This device is easily and quickly installed anywhere along an approved anchorage (rail). The Rail Slider™ Anchorage Connector will move along the rail, pulled by the worker's lanyard/harness. No unhooking and re-hooking of the lanyard is required when changing work locations. The rail slider consists of a pair of rail profile plates, which interlock via a set of receiving bolts. A lanyard is attached to an approved carabiner securing the profile plates to the crown of the rail.
Restraint Lanyards MSA offers several types of reliable restraint lanyards, which are primarily used for travel restriction and work positioning.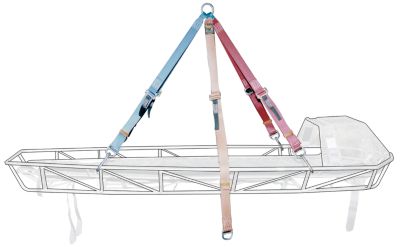 Stretcher Bridle The Stretcher Bridle is used as connection to a rescue stretcher in evacuation or rescue situation and is available in 4 point or 5 point versions. Stretcher not included.
Thermatek® Harnesses With chemical- and heat-resistant Kevlar/Nomex blend webbing, the Thermatek® full body, vest-style harness is an effective fall arrest solution. Features webbing and stitching in contrasting colors for easier inspection, and Qwik-Fit leg straps for easy connection.

Short-Stop® and Sure-Lock® Self-Retracting Lanyards A fast-acting fall arrester limiting free-fall distance, deceleration distance, and fall arrest forces while allowing user freedom of movement. The Short-Stop and Sure-Lock Self- Retracting Lanyard is compact and lightweight.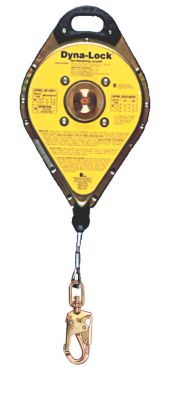 Dyna-Lock® Self-Retracting Lanyard The MSA Dyna-Lock® Self-Retracting Lanyards (SRL) are fast-acting fall arresters that limit free-fall distance, deceleration distance and fall arrest forces while allowing user freedom of movement. The Dyna-Lock SRL is ideal for climbing applications where vertical mobility is needed.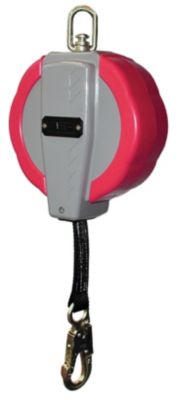 Aptura™ LT 30 Self-Retracting Lanyard With its solid design and fast-acting brake mechanism, you can be confident that the Aptura™ LT 30 SRL will be there for you when you need it most. MSA has set a new standard in the mechanical fall protection market with the Aptura LT 30 Self-Retracting Lanyard (SRL). These features and more combine to deliver the lightest weight, most versatile SRL available on the market today.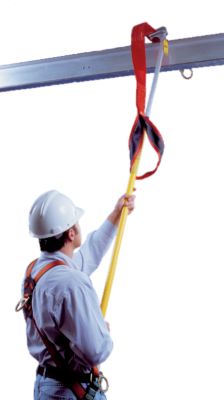 RCD® (RemoteConnect/Disconnect) System Enabling workers to have continuous safety at heights by greatly extending the reach in order to remotely install an anchorage connector and connect a portable personal fall arrest system (PFAS) to it.