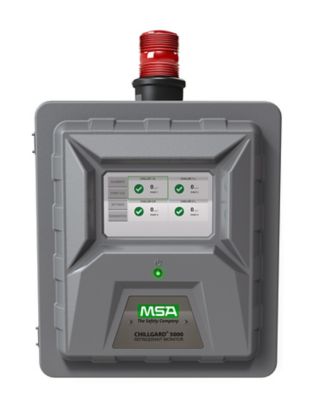 Chillgard® 5000 Refrigerant Leak Monitor The Chillgard® 5000 Refrigerant Leak Monitor provides the earliest level of detection of costly refrigerant gas leaks in mechanical equipment rooms. Sampling system with patented photoacoustic infrared (PAIR) technology detects leaks as low as 1 part per million (ppm). Intuitive, touchscreen user interface makes it easy to operate. Predictive maintenance and diagnostics keep you operational.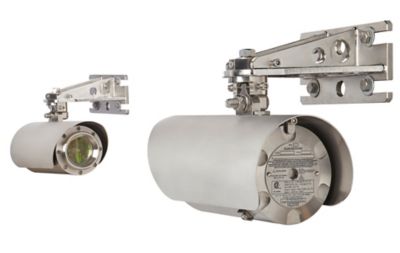 Senscient ELDS™ Open Path Gas Detector The Senscient ELDS laser-based open path gas detector is available for a wide range of toxic and flammable gases. The Senscient ELDS uses 'SimuGas' self-testing to eliminate employees entering hazardous areas for gas checks. Nuisance false alarms are virtually eliminated with its breakthrough Harmonic Fingerprint processing.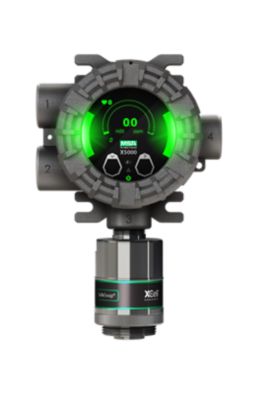 ULTIMA® X5000 Gas Monitor The ULTIMA® X5000 Gas Monitor  is the future of gas detection for oxygen, toxic and combustible gases. MSA XCell® gas sensors with TruCal® technology offer calibration cycles up to 18 months (local calibration respected). The gas transmitter's advanced, multi-lingual OLED display is easy to read and the unique touch-screen interface makes it simple to navigate.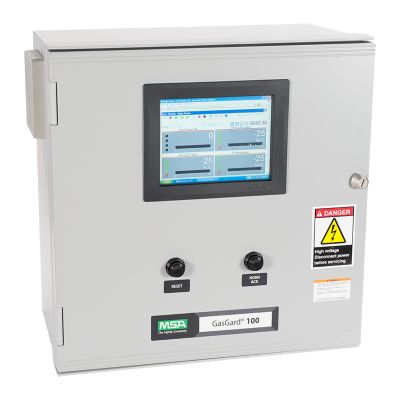 GasGard® 100 Control System New GasGard 100 Control System scalable, high performance data acquisition/data-logging platform offers an intelligent approach to data acquisition and control for fixed flame and gas detection. Open Ethernet connectivity with web-based configuration and data monitoring functions allow GasGard 100 Controllers to provide a wide range of monitoring and historical logging functions. View real time trends via web browser from any PC without special software. Gasgard 100 Control System provides fully integrated measurement, display and recording platforms, that when equipped with MSA's extensive line of transmitters and sensors, forms a complete gas detection solution.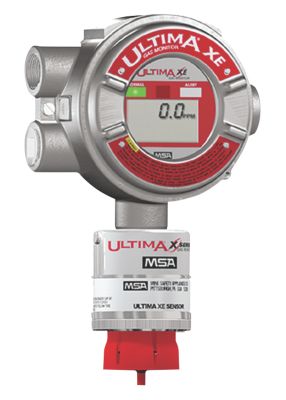 Ultima® X Series Gas Monitors Designed to provide thorough, continuous monitoring of many hazardous gases, the indoor/outdoor Ultima X Series Gas Monitors offer excellent performance and MSA quality craftsmanship. DuraSource™ Technology offers extended sensor life, while HART provides convenient setup, calibration and diagnostics. HART also allows for existing component install and wiring to be used. A single circuit board increases reliability, while our patented sensor disconnect-underpower feature allows all sensors to be replaced in hazardous areas without area declassification. The units are crafted from either stainless steel or polycarbonate, and the interchangeable smart sensors eliminate the need for reconfiguration. Our scrolling LCD screen display sensor reading and gas type, while the calibration process includes date stamping and the ability to calibrate locally or remotely.

SUPREMATouch Controller The SUPREMATouch has been enhanced with several new features which makes it outstanding in its class. Added to the popular large colour touchscreen display, a new title-based menu structure has been added to optimize intuitive operation. The SUPREMATouch can be used with a wide range of detectors for combustible gas, toxic gas and oxygen. Output options include relays and 4-20mA outputs. Remote racks can be connected (satellite structure), which expands control systems and reduces cabling costs. Interfacing to external systems is provided by using Modbus or Profibus. The SUPREMATouch has been certified according to ATEX and is suitable for virtually any safety related application including redundant systems with up to a Safety Integrity Level (SIL) 3 rating (EN 61508). The intuitive SUPREMA Manager Software is intended for configuration, parameterization and calibration of the SUPREMATouch Fire and Gas Controller. It offers the option to create detailed and clearly laid out reports to support documentation and supports all the new features of the SUPREMATouch. Note: This is a custom product. Please consult your local MSA distributor or contact MSA Customer Service for configuration details.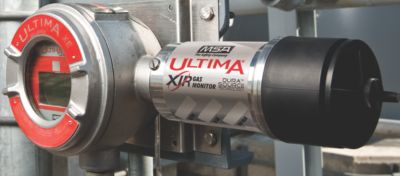 Ultima® XIR Gas Monitor The microprocessor-based, infrared Ultima XIR gas detector is precisely engineered to continuously monitor for combustible gases and vapors. The unit features DuraSource Technology, which offers improved IR life, and a HART port for easy output access. The explosion-proof stainless steel monitor works indoors or outdoors and features infrared technology that eliminates the need for frequent calibrations. Its operations are based on dual-wavelength, heated-optics technology, which compensates for temperature, humidity and aging effects. The unit uses only one circuit board for increased reliability, and the sensor life isn't reduced by exposure to gas. The LCD screen provides scrolling information, while optional quick-check LEDs provide increased visibility.
Chillgard® VRF Refrigerant Leak Detector MSA Chillgard VRF Refrigerant Leak Detector is the first industry detector for Variable Refrigerant Flow Systems (VRF) with integrated BACnet capability. Therefore, it can be directly connected with any Building Management Systems (BMS). MSA applies its proven Photoacoustic infrared sensing technology that provides a stable zero baseline, minimizes cross-sensitivities and offers low cost of ownership through minimum maintenance required.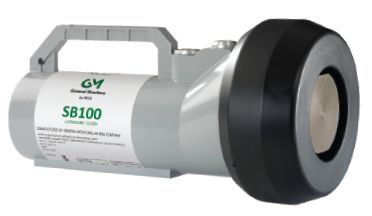 SB100 Ultrasonic Bump Tester The SB100 is a hand-held battery-operated rechargeable ultrasonic tester designed to bump test General Monitors ultrasonic gas leak detectors. The SB100 is useful for quick tests where physical access to the ultrasonic gas detector can be difficult. The unit can be used to bump test up to 18 meters away from the detector in Class 1, Div 1&2 hazardous areas.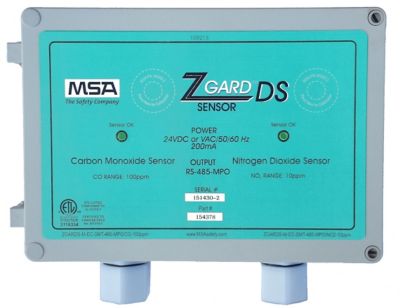 Z-Gard® DS MPO Dual Gas Sensor The Z-Gard DS MPO Gas Sensor connects directly to a building automation system for dual gas monitoring solutions. It detects the presence of carbon monoxide and nitrogen dioxide. The Z-Gard DS MPO Sensor communicates with one of several industry standard protocols, providing seamless integration with commercial automation systems.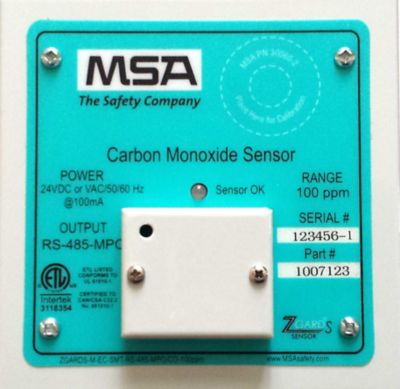 Z-Gard® S MPO Single Gas Sensor The Z-Gard S MPO Gas Sensor connects directly to a building automation system for single gas monitoring solutions. It detects the presence of either carbon monoxide, nitrogen dioxide or combustible gases in air. The Z-Gard MPO Sensor communicates with one of several industry standard protocols, providing seamless integration with commercial automation systems.
Ultima® Controller The Ultima Controller is purpose-designed and built to provide complete access to all advanced features of the Ultima and Ultima X Gas Monitors, as well as the Toxgard II Gas Monitor. Via its full-function and password-protected keypad, users can set the real time clock, set alarm levels, change span-gas values, display date of last calibration, display minimum, maximum and average gas values, change address and set future calibration time/date in addition to providing basic calibration functions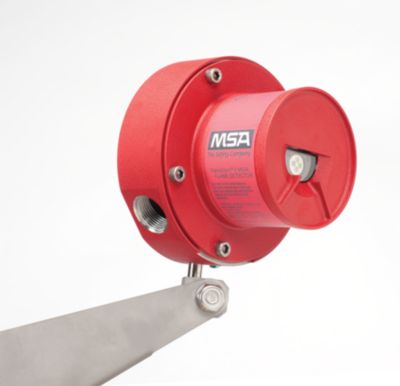 FlameGard® 5 MSIR Flame Detector MSA's FlameGard® 5 MSIR Detector is an advanced multi-spectrum flame detector designed to provide superior false alarm immunity with the widest field of view. The detector employs a state-of-the-art multi-spectrum infrared (MSIR) sensor array with a sophisticated Neural Network Technology (NNT) system.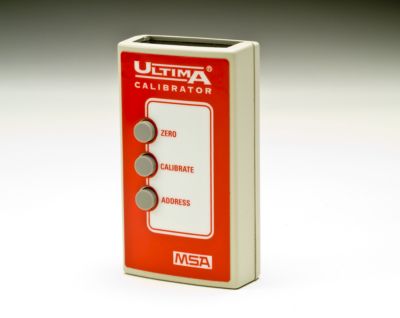 Ultima® Calibrator The Ultima Calibrator offers the industry's simplest, quickest calibration. Simple, three-button device is purpose-built for calibrating and changing the address of Ultima and Ultima X Gas Monitors and the Toxgard II Gas Monitor.
FlameGard® 5 UV/IR Flame Detector The precision-crafted FlameGard® 5 UV/IR Flame Detector monitors both ultraviolet and infrared (UV & IR) spectral ranges, which makes it highly immune to false alarms caused by lightning, arc welding, hot objects and other sources of radiation. The unit's Continuous Optical Path Monitoring (COPM) checks both the optical path integrity and the detector's electronic circuitry once a minute, while the wide field of view enables greater fire detection coverage.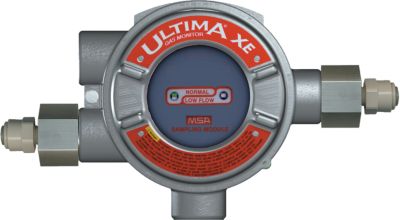 Ultima® X Sampling Module Built for safety programs that demand gas concentration measurement before allowing entrance to an area, the Ultima X Sampling Module is exclusively designed to work with the Ultima X Gas Monitor. The unit features an explosion-proof design and reliably extracts a sample from any confined or inaccessible area—or any area that is too hot, cold, or otherwise harsh—and delivers gas concentration reading directly to the installed gas monitor.
Z-Gard® CXII Controller The robust Z-Gard CXII Controller connects with a wide array of MSA Z-Gard Sensors, accepting up to 99 sensors. A large backlit LCD screen displays operating, alarm and fault diagnostic system status. Modbus RTU or BacNet MS/TP digital protocols are available for integration with building automation systems.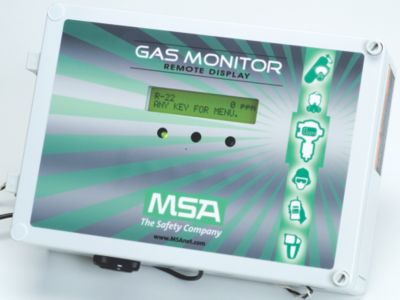 Gas Monitor Remote Display The Gas Monitor Remote Display provides gas monitor information before room entry where potentially hazardous gas levels may exist. This unit is easily installed adjacent to entry ways or walls outside of the monitored area. Workers can easily be alerted by the audible alarm and read the monitor status to know the alarm conditions inside the room prior to entry.
Calibration Kits Simple, accurate calibration is easy with these economical, all-in-one kits. Choose from 14 different types for sensor and instrument calibration. Kits include zero and span cylinders, regulators, tubing, accessories and instructions. All kits housed in a lightweight carrying case, making it convenient to carry everything directly to the sensor location or job site.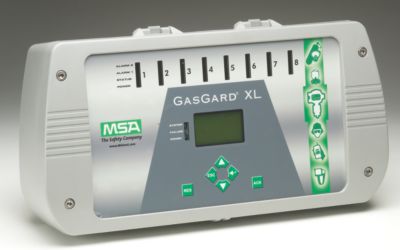 GasGard® XL Controller Monitor up to eight remote gas sensors with the highly accurate wall-mounted GasGard XL Controller. The sensor's large, multi-language LCD display provides real-time readings, offers full-system diagnosis and shows intuitive icons. Housed in durable, fire-retardant ABS plastic, the controller is suitable for a variety of chemical, industrial and waste water environments. The sensor also features a buzzer that sounds up to 85 db.