Hierarchy of Fall Protection:
It is generally accepted by governing bodies that the hierarchy of fall protection should provide the starting point for considering what type of fall protection system is required. As the hierarchy progesses, so does the risk.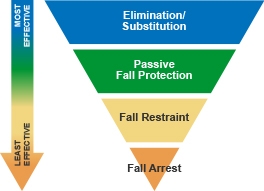 Leading Edge
What exactly is a Leading Edge? According to OSHA, a leading edge means the unprotected side and edge of a floor, roof, or formwork for a floor or other walking/working surface (such as deck), which changes location as additional floor, roof, decking or formwork section are placed, formed or constructed.
Each worker who is constructing a leading edge 6 feet or more above lower levels must be protected by guardrail systems, safety-net systems, or Personal Fall Arrest (PFA) systems, as directed by a fall-protection plan that meets the requirements of 29 CFR 1926.502(k).
Arc Flash
An arc occurs when flowing current leaves its intended conductor, traveling through air to another conductor or to the ground. The resulting electrical energy produces a flashover that can cause fire, damage to property, severe burns, and even death to individuals within close proximity. Circumstances that can create arc situations include electrical equipment malfunction and failure (spontaneous arc) and failure to take proper precautions when working on energized circuits (inadvertent arc).
Suspension Trauma
Orthostatic intolerance or suspension trauma due to sustained immobility can occur within a few minutes following a fall arrest, especially if the fallen worker has lost consciousness. Symptoms of this serious health risk include dizziness, weakness, sweating, fainting, and venous pooling (blood accumulation in the veins) that can reduce blood flow to the heart and oxygen to the brain.
Falling Objects
The potential for objects to be dropped from above must always be considered when working in any location. Because of the tight confines and access hatches in vertical entries, tools can be dropped that strike the unaware worker below, causing major injury.
White paper on Type 1 vs Type II Hard Hats
Protect Your Melon Video
Eliminate the risk
Avoid work at height where possible or locate plant and equipment in safe locations where there is no risk of a fall.
Guard the hazard
When working at height is essential, ensure that workers are not exposed to unnecessary risks, consider providing a parapet or guardrail to eliminate the fall hazard.
Protect the worker
Where it is not possible to eliminate the risk of falling, use a suitable fall protection system to minimise the consequences of a fall. This can be achieved with a fall arrest or fall restraint system–two completely different entities.
Potential Hazards: