As the global leader in safety products, MSA has built a legacy of protecting people around the world. That legacy does not end with our customers. We've frequently stepped forward to provide financial support and safety equipment to assist in recovery and clean-up efforts following natural disasters. In addition, our associates and the MSA Charitable Foundation actively support a broad range of philanthropic organizations and work hard to give back to our communities. It's who we are and what we do. We will continue to strive to make the world safer, one person at a time.
United Way
The MSA United Way goal is to advance the common good in our community by focusing on education, income and health. The United Way team of volunteers at MSA hold fund-raising events such as Bake Sales, Basket Raffles, and Book Sales on-site to help raise employee awareness. MSA's Charitable Foundation matches every employee contribution, dollar for dollar, therefore doubling the annual contribution! Every year, MSA raises close to a quarter of a million dollars for the United Way to support those in need.
American Heart Association
The American Heart Association is the nation's oldest and largest voluntary organization dedicated to fighting heart disease and stroke. The American Heart Association's mission is to build healthier lives, free of cardiovascular diseases and stroke. The MSA team volunteers and fundraises through a variety of events for this important cause. Previous events have included fundraising raffles, cookbook sales, corn hole tournaments, give back evenings, golf outings, ornament sales, paper heart sales and putt 'fore' parking!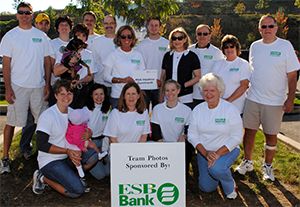 Relay for Life
The American Cancer Society Relay for Life is a 24-hour event to celebrate the lives of people who have battled cancer, remember loved ones lost, and fight back against the disease. At MSA, we walk to remember….to honor….to celebrate….to educate, and above all to change lives. MSA has proudly supported this event for 10 years.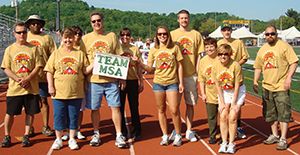 Junior Achievement
Junior Achievement of Western PA is driven by corporate and community volunteers who deliver relevant, hands-on experiences that give students from kindergarten through high school the skills they need to own their economic success, plan for their future, and make smart academic and economic choices. As a company dedicated to supporting our communities and our leaders of tomorrow, MSA has been a proud supporter of Junior Achievement since the 1930's.
South County Outreach: Adopt-a-Family
Over the years, General Monitors employees have participated in an Adopt-a-Family outreach program in Orange County, California. Since its inception, South County Outreach has been linking generous community members with families in need of extra support during the holidays. This wonderful holiday tradition supports many struggling Orange County families by providing gifts and food for the holidays.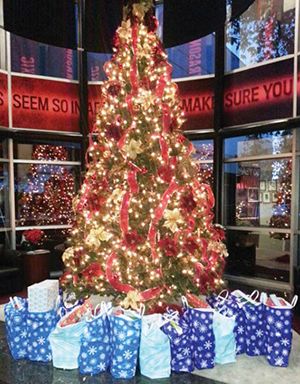 We're There When You Need Us
Haiti Earthquake
In January, 2010, a 7.0 earthquake struck Haiti, killing over 200,000 people and injuring more than 300,000. MSA donated more than $200,000 worth of personal protective equipment to earthquake stricken areas.
Chilean Earthquake
February of 2010, an 8.8 magnitude earthquake struck Chile. MSA quickly sent food and bottled water to the hardest hit area of Concepcion.
BP Oil Spill Clean Up
The 2010 BP Oil spill resulted in 4.9 million barrels spilled into the Gulf of Mexico. MSA provided training and safety equipment to protect workers on the clean-up crews.
Hurricane Sandy
In the fall of 2012, Hurricane Sandy made its way across eight countries, killing more than 233 people. MSA provided more than $50,000 of gas detection instruments to fire departments in the New York & New Jersey areas and more than $100,000 in head and eye protection equipment to hurricane relief groups.
Moore, Oklahoma, Tornado
In May, 2013, an EF 5 tornado ripped through Moore, OK leaving a 17 mile path of destruction. MSA donated more than $70,000 of protective equipment to the recovery efforts.
Calgary Flood Relief
A slow moving storm in June 2013 caused more $255 million in damages in Alberta, Canada. MSA donated more than $12,000 worth of safety equipment to Foothills Flood Relief.
100 Ways of Giving
As a part of our centennial celebration in 2014, MSA created a special program to donate over $100,000 to 100 different global charitable organizations chosen by our associates.
Nepal Earthquake
The April, 2015, Nepal earthquake killed more than 8,000 people and injured over 21,000 more. MSA donated more than $150,000 of personal protective equipment to Nepal relief agencies.
Tianjin Explosion
The Tianjin, China, explosions in August 2015 killed approximately 100 people and injured hundreds more. MSA quickly donated 20 SCBAs, 50 full facemasks, and 1,000 gas mask canisters to the Tianjin Fire Brigade.
Fort McMurray Wildfire
In May of 2016, a large wildfire swept through Alberta, CA engulfing more than 522,000 hectacres in flames. MSA donated more than $5,000 worth of V-Gard Helmets, safety eyewear and goggles to aid in the relief effort
Hurricane Harvey and Hurricane Irma
In August of 2017, Hurricane Harvey ripped through the Gulf Coast, flooding many areas and destroying homes. Just two weeks later, in September 2017, Hurricane Irma swept through Florida, devastating the Florida Keys and the southern part of the state. MSA partnered with the Red Cross to match the funds contributed by MSA Associates and their friends and families. Together, we sent tens of thousands of dollars to aid in the recovery efforts.
Mexico Earthquake
On September 19, 2017, a 7.1 magnitude earthquake struck Puebla, Mexico. Rescue workers and volunteers searched through collapsed buildings and piles of rubble for signs of life. MSA's Mexico facility quickly shipped helmets, safety glasses and disposable respirators to aide with the rescue efforts.