Featured
OptimAir® TL PAPR
The low-profile OptimAir® TL Powered Air-Purifying Respirator combines state-of-the-art design with superior "smart" features. The unit packages the motor blower, cartridges, and battery in a single hip-hugging design for lightweight comfort and fit. The low profile motor blower offers optimal airflow through a crushproof breathing tube, while the ergonomic battery pack allows for free movement within confined spaces. The unit automatically adjusts flow rates for altitude via an internal pressure sensor, while the cutting-edge design permits fast, accurate change-out of cartridges, hoods and batteries. The standard kit includes motor blower, smart charger, standard battery, hose, and decon belt.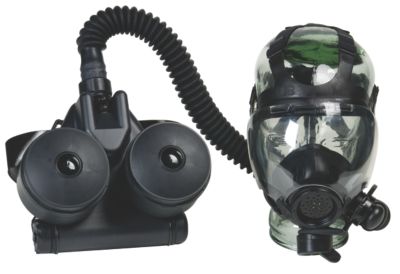 Responder® PAPR
With its industry-leading motor-blower and constantly filtered airflow, the belt-mounted Responder CBRN PAPR is ideal for first responders, military, and special ops personnel who require non-IDLH respiratory protection for up to 8 hours. The unit offers a choice of two MSA gas mask CBRN facepieces and three proprietary cartridges designed for CBRN, particulate and poisonous gases or vapors. The unit's constant airflow helps a user stay physically alert and focused, while also preventing fogging in the facepiece. Batteries can be "hot-swapped," and the blower's EMI shield ensures there is no interference with radio communications.
Ultra Elite® Full-Facepiece Respirators
Combining state-of-the-art features with MSA's precision engineering, the Ultra Elite full-face mask is our top model in this range. The ergonomic design makes this a comfortable unit, while the 5-point harness makes it easy to put it on or take it off. The distortion-free coated lens provides a wide field of vision, while the unique airflow prevents lens misting. The face blank has a single-sealing flange and comes in rubber or silicone, while the speech diaphragm makes communication easy to discern. The model has more than 40 different versions, making it the perfect mask for many different applications.