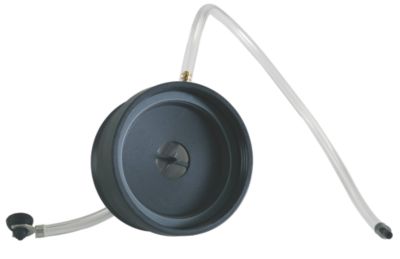 Fit Test Adapters
MSA offers a variety of fit testing adapters including: * APR Adapter: designed for use in non-IDLH environments and is NIOSH-approved. * Advantage® Fit Test Adapter: allows quantitative fit tests to be performed on bayonet cartridge style respirators (i.e., Advantage 200LS Half Mask and Advantage 3200 Full Facepiece Respirator). * QuikChek® Fit-Test Adapter: use with MSA respirators equipped with demand-style Ultravue® full facepieces or Comfo® Classic, Comfo Elite®, and Ultra-Twin® facepieces. * QuikChek® II Fit-Test Adapter: allows quantitative fit testing of any Comfo® II, Comfo Classic®, Comfo Elite®, Duo-Twin® or Ultra-Twin® respirator. * QuikChek® III Fit-Test Adapter: designed for Ultra Elite® full facepieces and attaches to the BMR adapter assembly. The MMR PD Ultra Elite® facepiece requires the QuickChek® IV, which comes with one P100 cartridge. * QuikCheck® IV Fit-Test Adapter: designed for Ultra Elite® and Ultravue® full facepieces with quarter-turn quick disconnect. Includes one P100 cartridge.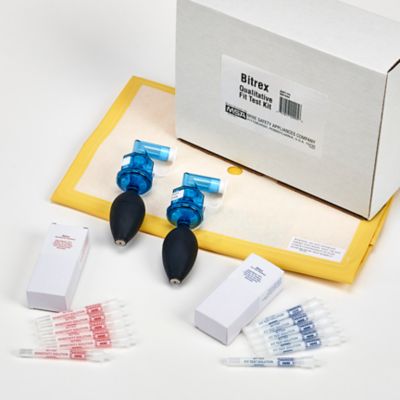 Fit Test Kits
MSA offers a variety of qualitative fit test kits to help users ensure a proper facepiece fit. The Occupational Safety and Health Administration (OSHA) requires proper fit for workers who use respirators. Products include: * Bitrex Qualitative Fit Test Kit * Saccharin Qualitative Fit Test Kit * Banana Oil Qualitative Fit Test Kit
G1 Facepiece with Twin Cartridge APR Adapter
Single or Twin port adapter snaps into place to cover a wide variety of respiratory applications, our APR adapter works with both NFPA and Industrial G1 facepieces, making the G1 facepiece platform ideal for industrial respiratory needs. The twin cartridge adapter can be used with the full line of both Advantage® and Comfo style respirator cartridges. The single port adapter can be used for industrial gas mask canisters and NFPA version facepieces can be adapted for CBRN APR protection. G1 NFPA Facepieces are available with Rubber or Kevlar harnesses and Industrial facepieces come with a polyester mesh harness for increased comfort.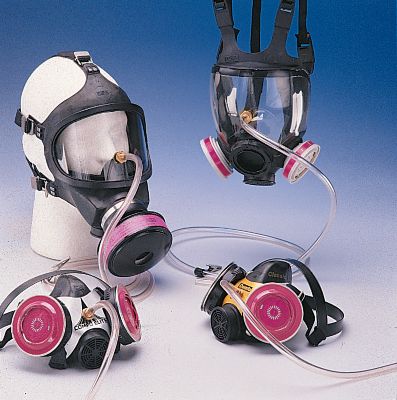 Probed Respirator Facepieces for Fit Testing
Engineered to provide thorough, quantitative fit tests, our full line of specially modified facepiece assemblies offer quality construction and accurate responses. Each of our probed facepieces is equipped with a sampling line and a clothing clip to hold the sampling line. They also feature a built-in probe assembly, which feature solid brass probes. In our half-facepiece models, we attach the probe to the body of the respirator. Full-facepiece respirators are probed through the lens and sealed with a neoprene washer and brass fittings. For existing Ultravue® facepieces, our probed lenses come completely assembled with the same brass probe, sealing hardware and sampling line as the probed full facepieces.
Ultra Elite® Full-Facepiece Respirators
Combining state-of-the-art features with MSA's precision engineering, the Ultra Elite full-face mask is our top model in this range. The ergonomic design makes this a comfortable unit, while the 5-point harness makes it easy to put it on or take it off. The distortion-free coated lens provides a wide field of vision, while the unique airflow prevents lens misting. The face blank has a single-sealing flange and comes in rubber or silicone, while the speech diaphragm makes communication easy to discern. The model has more than 40 different versions, making it the perfect mask for many different applications.