Featured
V-TEC™ Self-Retracting Lifeline
With premium  stainless steel components and innovative engineering, the V-TEC Self Retracting Lifeline incorporates a precision-made spring radial energy absorber that requires zero calibration or adjustment.  The retraction dampening feature controls cable retraction speeds preventing pre-mature and accidental load indicator deployment.
Featured

V-EDGE™ Leading Edge Self - Retracting Lifeline
Specifically engineered and tested for foot-level tie off, the V-EDGE™ Self Retracting Lifeline offers a dependable means for leading edge fall protection. The V-EDGE SRL can be used in a variety of applications, from over head to horizontal tie off points, and where sharp edges are a concern.
Rescue Kits
A specialized rescue product designed for extreme cases in which a rescuer needs to be lowered head-first into a confined space to perform a rescue. The Confined Space/Head First Extraction System (HFES) allows the rescuer to be lowered comfortably into a confined space head first, harness the victim, and raise both victim and rescuer out of a confined space. Consists of an adjustable lifting strap, an adjustable victim strap, one pair of ankle harnesses, two carabineers, and a storage bag. This small, compact system can be used with any confined space retrieval equipment such as tripods and davits.

SureClimb® Vertical Lifeline Cable Systems
SureClimb® Vertical Lifeline Cable Systems and cable grabs are designed to provide ladder fall protection when climbing or descending ladders or vertical structures up to 300 feet in height. MSA SureClimb Fall Protection Systems are designed for temporary ladder climbing applications.
Discontinued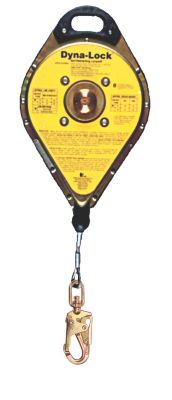 Dyna-Lock® Self-Retracting Lanyard
The MSA Dyna-Lock® Self-Retracting Lanyards (SRL) are fast-acting fall arresters that limit free-fall distance, deceleration distance and fall arrest forces while allowing user freedom of movement. The Dyna-Lock SRL is ideal for climbing applications where vertical mobility is needed.
Discontinued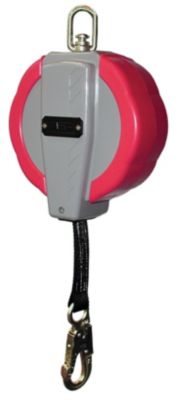 Aptura™ LT 30 Self-Retracting Lanyard
With its solid design and fast-acting brake mechanism, you can be confident that the Aptura™ LT 30 SRL will be there for you when you need it most. MSA has set a new standard in the mechanical fall protection market with the Aptura LT 30 Self-Retracting Lanyard (SRL). These features and more combine to deliver the lightest weight, most versatile SRL available on the market today.