Featured
Senscient ELDS™ Open Path Gas Detector
The Senscient ELDS laser-based open path gas detector is available for a wide range of toxic and flammable gases. The Senscient ELDS uses 'SimuGas' self-testing to eliminate employees entering hazardous areas for gas checks. Nuisance false alarms are virtually eliminated with its breakthrough Harmonic Fingerprint processing.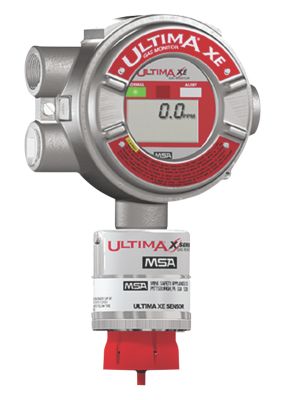 Ultima® X Series Gas Monitors
Designed to provide thorough, continuous monitoring of many hazardous gases, the indoor/outdoor Ultima X Series Gas Monitors offer excellent performance and MSA quality craftsmanship. DuraSource™ Technology offers extended sensor life, while HART provides convenient setup, calibration and diagnostics. HART also allows for existing component install and wiring to be used. A single circuit board increases reliability, while our patented sensor disconnect-underpower feature allows all sensors to be replaced in hazardous areas without area declassification. The units are crafted from either stainless steel or polycarbonate, and the interchangeable smart sensors eliminate the need for reconfiguration. Our scrolling LCD screen display sensor reading and gas type, while the calibration process includes date stamping and the ability to calibrate locally or remotely.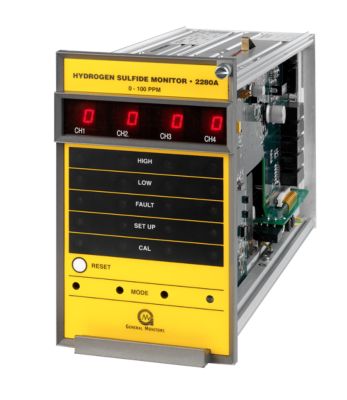 2280A Four Channel H2S Gas Monitor
The 2280A is a system for continuously monitoring H2S gas concentrations in four locations. The system consists of up to four remote mounted sensors and a solid state controller. The controller consists of four independent channels, each having its own circuitry. With a digital display, the 2280A shows hydrogen sulfide gas concentrations in ppm (parts per million) in the ranges of 0-20, 0-50, or 0-99 ppm for each channel.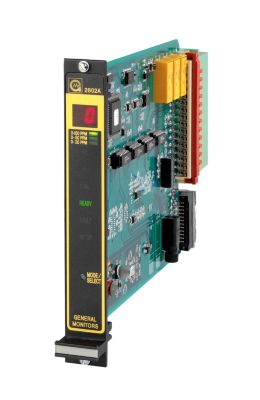 2602A Zero Two Series Control Module for H2S Applications
The 2602A is a single-channel H2S Control Module that has been designed to monitor H2S in parts per million (ppm) levels and provide status indication and alarm outputs. Microprocessor-based electronics allow all options to be user selectable through front panel interface (mode / select switch and digital display). The digital display on the 2602A indicates hydrogen sulfide gas concentration, fault codes, calibration cues and setup options. Other features include LED indications of status, relay outputs for fault, low alarm and high alarm, and serial communications ports.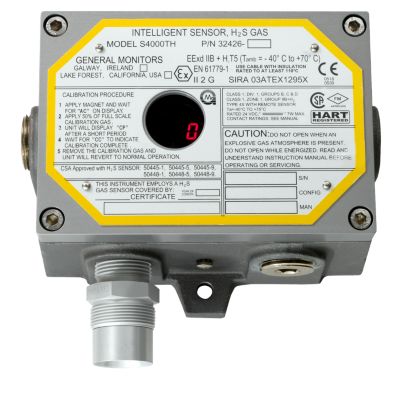 S4000TH H2S Gas Detector
The S4000TH Intelligent Gas Sensor is a microprocessor-based transmitter designed for use with General Monitors' thin film metal oxide semiconductor (TFMOS) sensors to detect H2S gas. The unit features one person calibration and can virtually self-calibrate by simply activating a magnetic switch and applying gas. It detects hydrogen sulfide in 0-20 ppm, 0-50 ppm or 0-100 parts per million (ppm) levels over a wide temperature range. 
H2S Gas Sensors and Accessories
General Monitors' hydrogen sulfide (H2S) sensors are solid state devices, designed and manufactured for long life and fast response. They are selective to H2S and remain unaffected by high concentrations of other substances like hydrogen, sulfur dioxide, and gasoline vapors, which are often present in facilities that process sour gas and crude oil. A high tolerance to a broad range of temperatures and humidity enable these sensors to operate in rugged environments, as does their capacity to withstand exposure to high H2S concentrations over short periods.
Observer-i Ultrasonic Gas Leak Detector
Instantly detect pressurized gas leaks with this high-precision,  omni-direction acoustic detector utilizing Gassonic ultrasonic technology. Works even when traditional methods of gas detection are unsuitable or dependent on ventilation. Features Artificial Neural  Network (ANN) technology that distinguishes between real gas leaks and false  alarm sources without requiring any in-field training. The Observer-i UGLD provides an industry-leading detection range (up to 28 m) reducing the  number of detectors required. Ideal for use in complex, outdoor pipeline systems.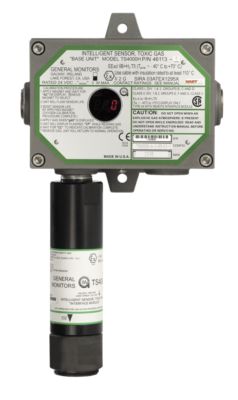 TS4000H - H2S Electrochemical Gas Detector
The TS4000H Intelligent Toxic Gas Detector continuously monitors hydrogen sulfide (H2S) in several ppm ranges, delivering highly accurate detection and protection. The unit features one person calibration and can virtually self-calibrate by simply activating a magnetic switch and applying gas. It provides status indication and alarm outputs. Configurations with relays, Modbus, and HART are available to meet many needs.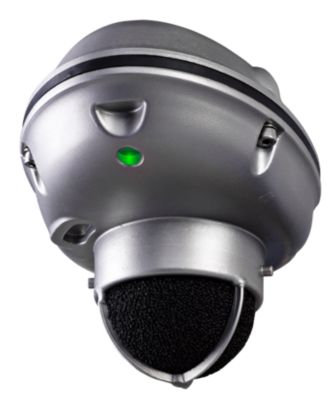 Surveyor Ultrasonic Gas Leak Detector
The Surveyor detects gas leaks by sensing the airborne ultrasound emitted from leaking gas at high pressure. Ultrasonic gas detection is based on robust and proven Gassonic technology and designed for long and failsafe operation in extreme environmental conditions. Because the Surveyor responds to the source of a gas release rather than the dispersed gas, it is unaffected by changing wind directions, gas dilution, and the direction of the gas leak.