MSA Grid Live Monitor
Remote gas detection live monitoring software
The MSA Grid Live Monitor is a remote monitoring tool for portable gas detctors. With the MSA Grid live monitor cloud-base sofwtare you have real- time visibility across your workers and worksites. Worker location awareness, full event live monitoring including gas reading and worker evacuation control and much more!
Real-time alarm alerts about gas readings or other hazards
Real-time compliance alerts
Individual or group evacuation control
Real-time location awareness
Satellite and street view map options
Automatic Software Updates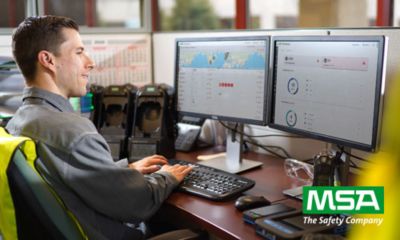 MSA Grid Live Monitor
Remote gas detection live monitoring software
Highlights
Videos
Specifications
Approvals
Literature
Highlights
The MSA Grid software is a cloud-based software that provides real-time visibility across your worksites—including workers and workflows—accessible from anywhere with an internet connection via desktop or mobile. The MSA Grid is powered by Safety io, which has achieved ISO 27001:2013 certification for its information security management system
Videos
Show More Videos
Show Less Videos
Specifications
Access Controls
Industry-standard verified user authentication. Optional SAML Authentication
Applications
Confined Space
Emergency Response
Turnarounds & Plant Maintenance
Approvals / Standards
ISO/IEC 27001:2013 Certified by an accredited third-party vendor
Data Backup
Immediately backed up upon receipt. Daily full backups. Double backups.
Encryption In Transit & Encryption at Rest
HTTPS TLS, MQTTS x509 Private Certificate, AES-256-bit encryption
Encryption at Rest
AWS Key Management Service (KMS) - AES-256-bit encryption
GX2 Connect WAN to Grid Connectivity
Current Windows Server or Windows operating system on a physical/virtual local host
x509 Private certificate Connection Security
.NET 4.7.2 or later, and TLS 1.2 or later
MQTTS and HTTPS internet connectivity to the Safety io Grid
Markets
Construction
General Industry
Oil & Gas
Utilities
Fire Service
Mining
Resilience
AWS high availability, failover, and load balancing across 6 AWS Data Centers.
Test Stand LAN to GX2 Connect Service Connectivity
LAN TCP 5555 to and from GALAXY® GX2 Test Stands
User Interface - Supported Web Bowsers
Microsoft Edge
Mozilla Firefox
Google Chrome
HTML-5 Support with TLS 1.2 or higher and allow WinSocket (WSS://)
Approvals
Approvals subject to change without notice and may differ based on configuration, part number and/or country. Contact Customer Service or check approval label on product for specific approval information.
Your Viewing History