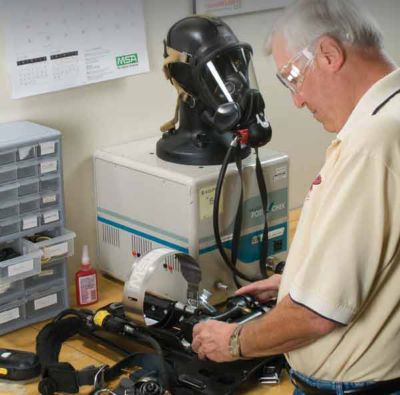 FireHawk® Air Mask Upgrade Kits
These upgrade kits are designed to bring 2002-edition MSA FireHawk® Air Masks into compliance with NFPA 2007-edition standards. Features new electronics (except electronic communications devices), carrier and harness, and MMR regulator components.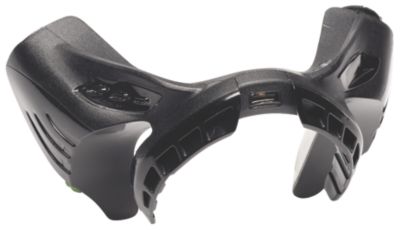 M7 I-HUD Receiver
MSA's new M7 I-HUD Receiver for FireHawk M7 Air Masks is worn on the INSIDE of your facepiece. New LED light patterns enhance safety and security. Unit automatically syncs with SCBA upon startup. Sleek design offers 40 percent weight reduction compared to our external HUD. MSA's I-HUD Receiver is available only with the FireHawk M7 PASS device.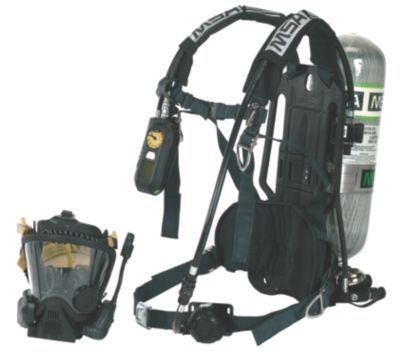 FireHawk® M7 Responder Air Mask
This air mask provides uniquely versatile protection, transforming quickly from a CBRN self-contained breathing apparatus to either an air-purifying respirator (APR) or a powered air-purifying respirator (PAPR). Easily goes from first response and rescue to scene management and remediation. This mask features a one-way inhalation check valve, wide-view lens with Kevlar SpeeD-ON® head harness and high-performance mechanical diaphragm. As the first and only of its kind, it provides emergency responders with the maximum level of protection in CBRN environments.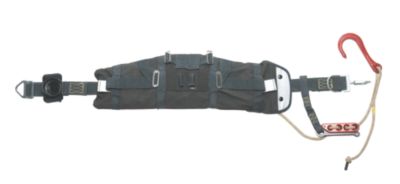 FireHawk® Rescue Belt II
Rappel to safety with this innovative, quick-release device for emergency egress. Ergonomically contoured, it easily stores rescue rope, hook or carabiner and descender. Ideal for extreme conditions, it features a web management system that also integrates a regulator holder. One belt fits all (up to 310 pounds, including equipment).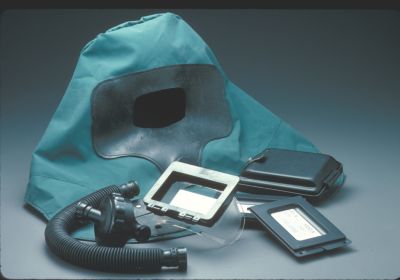 Abrasi-Blast™ Supplied Air Respirator
This supplied-air respirator provides respiratory and upper body protection for personnel engaged in abrasive blasting. Includes hood, face piece with lens housing, breathing tube, lens cartridge, flow-control device, air-supply hose, and support belts. Ideal for a range of applications including blasting operations.
Discontinued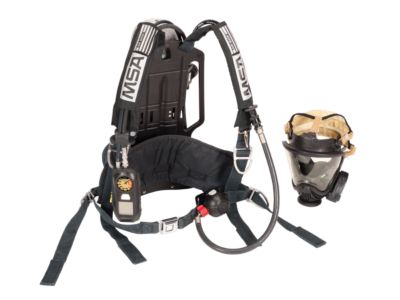 FireHawk® M7XT Air Mask
Through NFPA, firefighters strive to improve the durability and performance of their SCBA and PASS devices. It's no different with the new 2013 edition of NFPA 1981 and 1982 NFPA standards for self-contained breathing apparatus and personal alert safety systems (PASS). These revisions call for a minimum low pressure alarm set point of 33% cylinder operating pressure remaining, improved facepiece lens radiant heat performance, 500° F heat and flame exposure, and standardized PASS device alarm sound patterns. In addition, NFPA has raised the bar on voice communication capability, now requiring measurable, minimum Sound Transmission Index (STI) scores for both mechanical and electronic communications. MSA's new FireHawk M7XT Air Mask represents a true technological achievement in critical firefighter protection. As firefighters determined the safety requirements required to meet NFPA 1981 and 1982 2013-edition standards, MSA engineering teams began to design solutions. The new FireHawk M7XT Air Mask, with its life-safety design components built upon a modular air mask platform, exceeds NFPA 2013 requirements and provides firefighters with the highest quality SCBA available.
Discontinued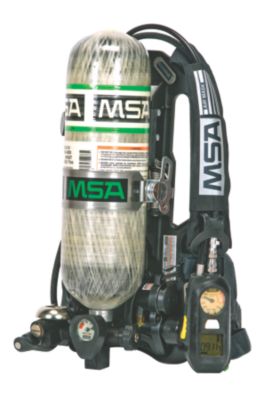 FireHawk® M7 Air Mask
This advanced air mask features seven life-safety design components. It is the highest quality SCBA available and is virtually bulletproof against fire ground hazard. Although lightweight and easy to use, it's a stellar performer—even in the face of extreme temperatures (up to 500°F).