MSA Helps Across the World
When disaster strikes, MSA has a history of responding quickly – sending equipment and safety expertise when and where it's needed most. When a massive earthquake and resulting tsunami hit Japan in 2011, MSA sent thousands of air-purifying respirators to help protect emergency responders and clean-up workers from possible nuclear radiation at the stricken Fukushima power plant.
When millions of gallons of oil spilled from the Deepwater Horizon oil rig into the Gulf of Mexico in 2010, MSA helped protect clean-up workers by sending many of our products, including respirators, multi-gas detectors, and hard hats to the disaster scene.
And immediately following the 9/11 terrorist attacks , MSA shipped more than $3 million of safety equipment, including thermal imaging cameras, hard hats, and respirators to disaster sites in New York City and Washington, D.C. – within 24 hours of the attacks. MSA associates at Ground Zero worked almost continuously for months afterwards, providing on-site support and product training.
MSA actively supports many philanthropic groups through our associates and the MSA Charitable Foundation, and our annual contributions to the United Way total nearly $1 million.
This support is simply part of who we are and what we do. We aim to help workers throughout the world, but we believe our position as the global leader in safety provides us with a unique opportunity to improve safety, and improve lives, around the world.
Show/Hide All
MSA's Corporate Commitment
As the global leader in the development, manufacture and supply of safety products that protect people's lives, MSA has built a strong legacy of protecting the health, safety and well-being of people all over the world. And that legacy does not end with our customers. From our founding in 1914, MSA has stepped forward to provide financial support and vitally needed safety equipment to assist in recovery and clean-up efforts following natural disasters. In addition, through our associates and through the MSA Charitable Foundation, we actively support a broad range of philanthropic organizations and we work hard to give back to the communities where we operate. It's part of who we are and what we do, and as long as we are in business we will continue to strive to make the world safer, one person at a time.
MSA Charitable Foundation
MSA has a long history of strengthening the lives of our neighbors in the communities in which we operate. Through the MSA Charitable Foundation, MSA provides the resources to help support the volunteer efforts of our associates as well as programs that promote healthy living, enrich young minds, and enhance our communities.
Through the MSA Charitable Foundation, MSA Supports:
United Way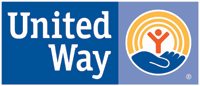 For more than 90 years, MSA has been a vital stakeholder in the Pittsburgh area and surrounding communities. Over the years, MSA and its associates have consistently provided outstanding support to the United Way. So much that on June 29, 2006, the United Way of Allegheny County presented MSA with the United Way Hall of Fame Award at PNC Park to recognize our outstanding and long-term commitment to supporting United Way programs. MSA joined Giant Eagle as one of only two Pittsburgh companies inducted into he United Way's Hall of Fame in 2006.
Fundraisers
Through annual fund-raisers and associate donations, and matching contributions from the MSA Charitable Foundation, MSA supports several meaningful causes including:
Community Involvement
We are proud to support the communities in which we live and work – and we believe it is an essential part of good corporate citizenship. Whether MSA is assisting in rebuilding homes in our community or sponsoring learning initiatives in local schools, when we can contribute to causes in our own back yard, MSA's "culture of pitching in" takes on a very special meaning.
Management Commitment
Nish Vartanian, President and Chief Executive Officer
Trustee, Manufacturers Alliance for Productivity and Innovation (MAPI)
Awardee, 2018 Board Diversity Ambassador Award, 2020 Women on Boards
Steve Blanco, President, MSA Americas
Board Member, Catholic Charities, Diocese of Pittsburgh
Member, International Safety Equipment Association (ISEA)
Member, Manufacturers Alliance
Paul Uhler, Senior Vice President and Chief Human Resource Officer
Board Member and Treasurer, Regional Learning Alliance (RLA)
HR Council Chair and Member, Manufacturers Alliance for Productivity and Innovation (MAPI)
Board Member, Nazareth College and Career Prep
Member, The Society of Human Resource Management
Markus Weber, Vice President, Chief Information Officer
Member, PA Chamber of Commerce
Trustee, Pittsburgh Ballet Theatre (PBT)
Member, Manufacturers Alliance for Productivity and Innovation (MAPI)
Member, German-American Business Circle of Pittsburgh (GABC)
Member, The Greater Pittsburgh CIO Group
Executive Advisory Council Member, Premier CIO Forum & Executive IT Summit
Member, Pittsburgh Chapter, German American Chamber of Commerce
Member, Rotary International
Doug McClaine, Vice President, Secretary and General Counsel
Co-Founder, Allegheny County Mock Trial Program
Trustee and Board Member, Butler Health System Foundation
Chairman, Compensation Committee, Butler Health System
Kenneth Krause, Senior Vice President and Chief Financial Officer
Board Member, American Heart Association
William M. Lambert, Chairman and Retired CEO
Board and executive Committee Member, Manufacturers Alliance for Productivity and Innovation (MAPI)
Chairman of the Board and President, Pittsburgh Civic Light Opera
Independent Board Director, Kennametal
Chairman's Council Member, American Red Cross of Southwestern Pennsylvania
Executive Committee Member, Senator John Heinz History Center
Board Member, Allegheny Conference on Community Development
Disaster Relief
With a mission to see that men and women may work in safety and they, their families and their communities may live in health throughout the world, MSA is committed to helping those in need when disaster strikes. Whether that need is for safety equipment, training rescue workers or donating funds, we do whatever we can to provide aid when it is needed most.
Tornado in Joplin, Missouri - 2011
In 2011, when a massive EF5 tornado tore through the heart of the Joplin, Missouri resulting in more than 135 fatalities and destroying more than 2,000 buildings, MSA responded. Days following the disaster, MSA received a request for help from one of our largest channel partners, Fastenal, which maintains a sales operation in Joplin. Spared by the tornado's destruction by just one block, Fastenal was very much on the front lines of this disaster, providing much needed equipment to first responders and rescue volunteers assisting in the rescue and recovery effort. Within 24 hours of the request, MSA responded with a donation of hard hats, safety glasses and safety vests along with a mixture of MSA Safety Works products including respirators, ear plugs and face shields.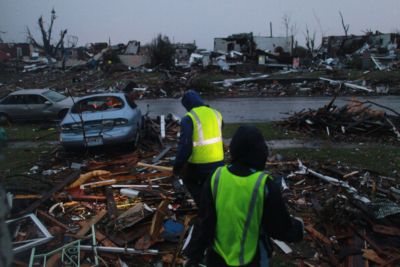 Rescue workers search through debris after 125 people were killed when a massive tornado passed through Joplin, Missouri.
Japan Earthquake and Tsunami – 2011
Following the horrific 8.9 magnitude earthquake and tsunami that rocked Northern Japan on March 11, 2011 and the nuclear situation that followed, MSA sprang to action. In the weeks following the disaster, MSA increased production and shipments of Air-Purifying Respirators that protect against nuclear radiation to Japan. Associates from MSA Japan helped to assemble and transport the products to the more than 300 workers risking their lives to repair the crippled nuclear reactor.
MSA was featured on Pittsburgh's CBS affiliate, KDKA -TV, to discuss the use of Air-Purifying Respirators against nuclear radiation from the damaged nuclear power plant in Fukushima, Japan. The program featured Product Group Director for Industrial Protection Products, Victor Vendetti, and Product Line Manager for Air-Purifying Respirators, Mackenzie Peters.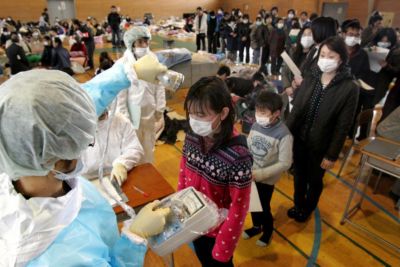 Japanese citizens receive a radiation exposure check following the 9.0 magnitude earthquake and subsequent tsunami that struck the Nuclear Power Plant in Fukushima, Japan.
BP Oil Spill – 2010
In 2010, the world watched as an explosion on the Deepwater Horizon oil rig in the Gulf of Mexico led to the largest oil spill crisis in the history of the petroleum industry. With tens of thousands of barrels of oil leaking into the Gulf everyday, MSA worked directly with BP, channel partners and the International Safety Equipment Association (ISEA) to help ensure the safety of the regional clean-up crews. In particular, MSA worked quickly to provide Advantage® 200 LS Respirators, Altair® Multi-Gas detectors, and V-Gard® hard hats to protect workers from the unstable environmental conditions caused by the spill.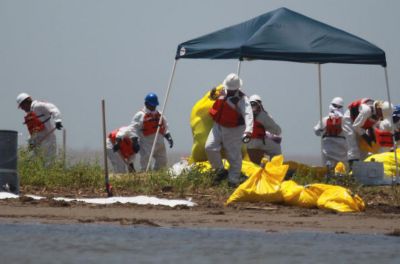 Workers clean tar from a beach that washed up following the BP's massive oil spill on May 12, 2010.
Haiti Earthquake - 2010
Following the 2010 Haitian Earthquake, MSA coordinated with Brother's Brother, a Pittsburgh-based, international charity dedicated to distributing aid around the world to stricken areas. Clean-up crews utilized an array of MSA products including hard hats, eyewear, hearing protection, first aid kits and disposable masks amounting to more than $200,000.
Hurricane Katrina - 2005
When Hurricane Katrina rocked the Gulf Coast of the United States, killing over 1,800 people and causing more than $80 billion in damage, MSA responded. Within days of the disaster, MSA established a Hurricane Relief Fund for employees to make financial contributions, which were matched dollar-for-dollar by the MSA Charitable Foundation. Within one month, MSA raised over $63,000 which was donated directly to hurricane victims through the American Red Cross. In addition to monetary donations, MSA also coordinated with emergency response agencies to deliver crucial safety equipment to the hurricane stricken areas.
Workers wear MSA Safety Works products to protect against harmful environmental agents and debris as they assist in the clean up in New Orleans following Hurricane Katrina.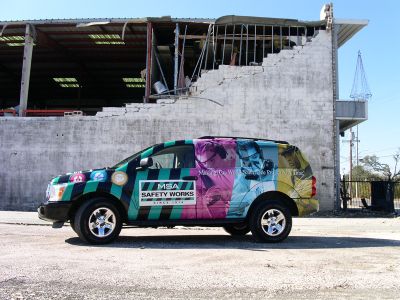 MSA sends the MSA Safety Works Dodge Durango to assist in the clean up following Hurricane Katrina.
Christmas Tsunamis – 2004
With more than 11 countries impacted, the series of deadly tsunamis that struck South East Asia in 2004 resulted in one of the worst disasters and loss of life the world had ever seen. In typical MSA fashion, we responded quickly, contributing more than $350,000 in safety-related equipment and supplies for the tsunami relief effort. In addition to providing safety equipment to the hardest hit areas, MSA associates donated funds directly to the Sisters of Charity located in Galle, Sri lanka, where a family member of an MSA associate serves as a sister. The convent is located in one of the hardest hit areas and was receiving hundreds, it not thousands, of victims following the disaster.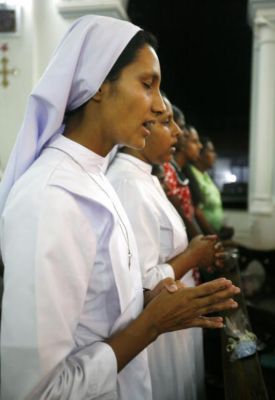 The sisters of Charity, where a family member of an MSA associate serves as a sister, pray during midnight Christmas mass at St. Mary's Cathedral in the Tsunami affected city of Galle, Sri Lanka.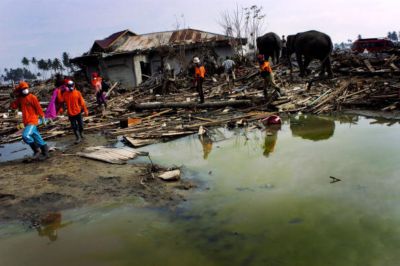 A clean-up crew and a pair of elephants dig through the remnants of a home in Indonesia following the deadly tsunami that struck more than 11 countries on December 26, 2004.
9/11 - 2001
In the wake of the September 11 terrorist attacks on New York City and Washington, D.C., MSA acted immediately to assist in the rescue efforts. Within hours, MSA loaded three trucks full of safety equipment, including thermal imaging cameras, hard hats and respirators valued at approximately $3 million. Police escorts ensured rapid delivery of the products to the "Ground Zero" sites in New York City and Washington D.C. overnight. But the contributions to safety did not stop there. MSA had associates at Ground Zero almost continuously for months afterwards providing on-site support and product training.
"It says a lot about every member of MSA to rise to the occasion like that during such a tragic event. Everybody who works at MSA understands we make products for use when people's lives are on the line and they certainly were at their best that day."


- MSA Chairman and former CEO, John T. Ryan III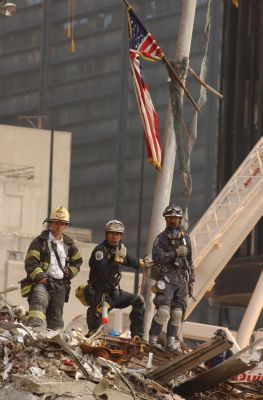 Rescue workers search through the wreckage at "Ground Zero" following the terrorist attacks on the world trade center on September 11, 2001.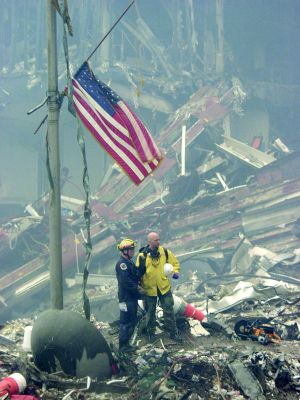 Sunlight filters through the dust as rescue workers search for survivors of the World Trade Center terrorist attack on September 11, 2001.