Fall Protection Trade-Out Program
Reduce conversion costs for customers currently using non-MSA fall protection and receive FREE units
Valid 01/01/2020 - 09/30/2020
See terms & conditions

How It Works
Convert a minimum of (25) V-Series PFLs or harnesses from a competitive brand to MSA and receive additional product at no charge!
Quantity Purchased
Quantity Received
At No Charge
25
5
50
10
100
20
1.
Look for select fall protection products marked with the "Eligible for Trade-Out" symbol on MSAsafety.com or consult this verification form to see which products are eligible for trade-out.

2.
Add the items to your cart and enter Order Reason Code B98 at checkout.
Note: Do not add the free units to your cart in this step. MSA will add these items to your order at no-charge once the order has been placed.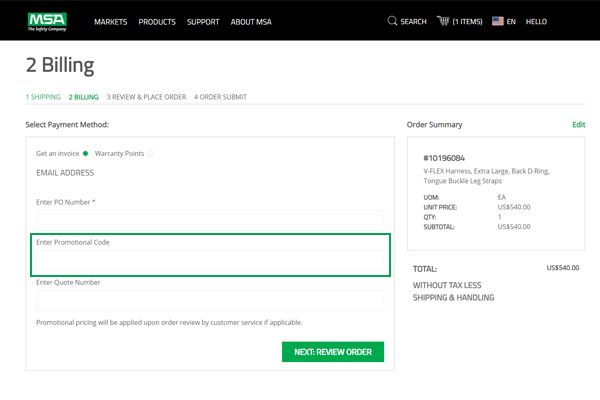 3.
Return to this page and fill out this trade-in form.
Important:This step must be completed in order to receive your free units on the sales order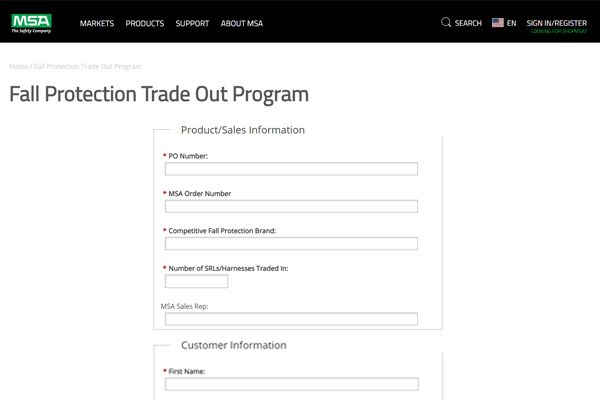 4.
Once your order is submitted, MSA will automatically drop ship the free units to the end-user specified.