Many industrial facilities work 24/7/365. The FieldServer FGFD ProtoAir Gateway gives you the flexibility to stay connected to your fixed gas and flame detectors when you're away from the facility or to keep watch on unmanned facilities.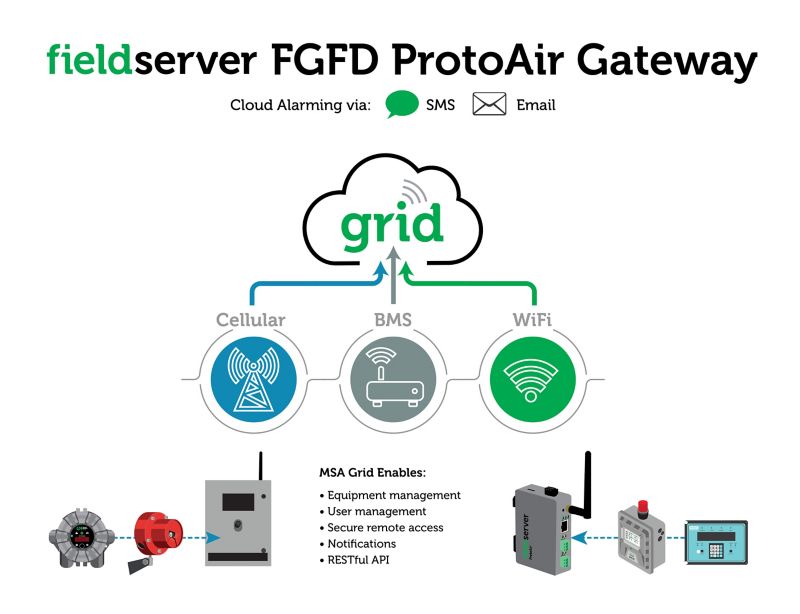 Work Smarter. Stay Connected.

The FGFD ProtoAir wireless gateway is an external, high-performance, low-cost building automation and industrial control IIoT gateway that provides connectivity into the cloud and instant multi-protocol deployment of field protocols, enabling new or legacy devices to easily interface with other protocols.
Pre-Programmed for Easy Setup
Every ProtoAir FGFD Gateway is pre-configured with MSA Safety's FGFD products before delivery to seamlessly enable Cloud communications to one or many MSA products including:
Not only can it be used with MSA's FGFD field devices, but it can also be expanded to include other process equipment that have 4-20 mA, Modbus or BACnet connectivity.
When housed in a NEMA 4 enclosure, the FGFD ProtoAir can be used for hazardous gas applications and comes with a built-in cellular antenna and all the relevant safety precautions for such an application.
Cloud Connectivity
Manage Devices in the Field While You're Away from the Field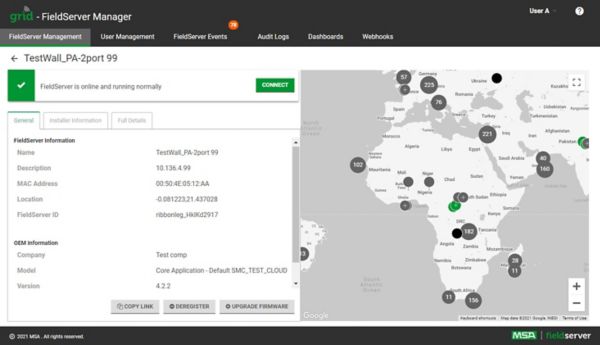 The MSA Grid FieldServer Manager provides the best, most cost-effective, and easiest method to deploy solutions to meet today's demands for cloud-based connectivity.
Concerned About Cyberattacks?
FieldSafe provides device security with a multi-layer approach.

HTTPS
Our "gateway-internet browser" and "gateway to SMC Cloud" connections are secured with HTTPS, which uses TLS/SSL.

AWS Partnership
We've also strategically partnered with Amazon Web Services so our SMC Cloud customers can benefit from the many security features Amazon provides.

Compliant with IoT Legislation
FieldSafe ensures all FieldServer devices are compliant with CA State Bill 327 – one of the most recent and strictest IoT safety standards in the world.

Login Variability
With three robust security levels and user profiles to choose from, FieldSafe provides security measures that grow with your business requirements.

Trusted
Don't take our word for it, our FieldServer gateways and SMC Cloud have passed rigorous 3rd party security penetration testing.
FieldSafe is a security feature set added to every FieldServer gateway. The FieldSafe feature set ensures device security in a world where cyberattacks are increasing in frequency and threats are becoming more sophisticated by securing the local hardware and the MSA Grid application with some of the latest technologies that are currently available in the IoT marketplace.