Leading Edge Fall Protection from MSA
Designed specifically for leading edge and foot-level tie off, the MSA V-EDGE™ series of self-retracting lifelines meet ANSI Z359.14-2014 leading edge fall protection requirements.
Check out the drop test video for our first web unit designed for leading edge applications:
Meet the V-EDGE™Self-Retracting Lifeline Series
Making product selection simple, the V-EDGE™ Self-Retracting Lifeline series can be used in a variety of applications—from overhead, to foot-level tie off points, and where sharp edges are a concern. Three product offerings include 8ft. and 20ft. lengths, and our first-ever web personal fall limiter for leading edge.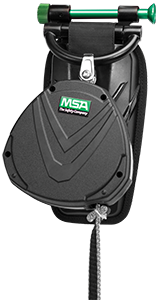 V-EDGE 2.4M (8ft.) Personal Fall Limiter – Web
Reduce fatigue – Using web technology, the V-EDGE™ web personal fall limiter provides a light weight option for leading edge applications.
V-EDGE 2.4M (8ft.) Personal Fall Limiter – Cable
Lower cost of ownership – With a stainless steel housing, the V-EDGE is built to last in the toughest environments—saving you time and money on replacements.
V-EDGE 6M (20ft.) Self-Retracting Lifeline
Reduce downtime – Internal components like cable and energy absorber can be replaced on-site—reducing repair times.
See the V-EDGE 6M Self-Retracting Lifeline in action!