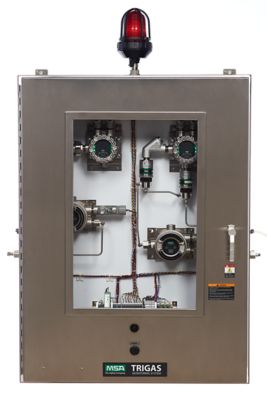 TriGas Monitoring System
The TriGas Monitoring System consists of up to three sensors with Ultima® X3 Technology's digital communications with on-board LEDs and relays to provide local alarms. This TriGas system offers  interchangeable smart sensors, internal DC-powered sample-draw pump and a hydrophobic end-of-line filter that makes it  ideal for areas of wastewater treatment plants that are subject to flooding (such as wet wells).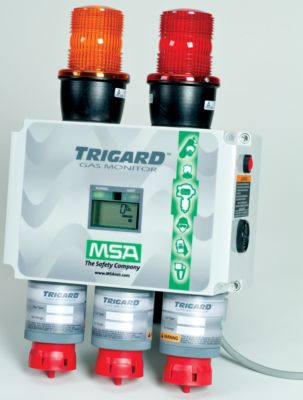 TRIGARD® Gas Monitoring System
Designed to meet a variety of demanding applications, from wastewater facilities, to light industry and commercial applications, the TRIGARD Gas Monitoring System features MSA's precision craftsmanship and detects chlorine, sulfur dioxide and other toxic and combustible gases. The adjustable-range unit also detects oxygen deficiency and enrichment. AC or DC powered, the system features a highly visible LCD screen and simple push-button calibration. Boasting sturdy NEMA 4X design and a single board, the unit offers multiple sensor mounting options. Our patented sensor disconnect-underpower feature allows all sensors to be replaced in hazardous areas without area declassification, while interchangeable smart sensors are pre-calibrated for installation right out of the box.
Featured

SUPREMATouch Controller
The SUPREMATouch features a large colour touchscreen display with a title-based menu structure to optimize intuitive operation. It can be used with a wide range of detectors for combustible gas, toxic gas and oxygen deficiency. Output options include relays and 4-20 mA outputs. Remote racks can be connected (satellite structure), which expands control systems and reduces cabling costs. Interfacing to external systems is provided by using Modbus or Profibus. The SUPREMATouch has been certified according to ATEX and is suitable for virtually any safety related application including redundant systems with up to a Safety Integrity Level (SIL) 3 rating (EN 61508). The intuitive SUPREMA Manager Software is intended for configuration, parameterization and calibration of the SUPREMATouch Fire and Gas Controller. It offers the option to create detailed and clearly laid out reports to support documentation and supports all the features of the SUPREMATouch. Note: This is a custom product. Please consult your local MSA distributor or contact MSA Customer Service for configuration details.
Featured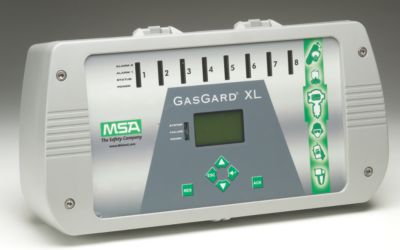 GasGard® XL Controller
Monitor up to eight remote gas sensors with the highly accurate wall-mounted GasGard XL Controller. The controller's large, multi-language LCD display provides real-time readings, offers full-system diagnosis and shows intuitive icons. Housed in durable, fire-retardant ABS plastic, the controller is suitable for a variety of chemical, industrial and waste water environments. The sensor also features a buzzer that sounds up to 85 dB.
Featured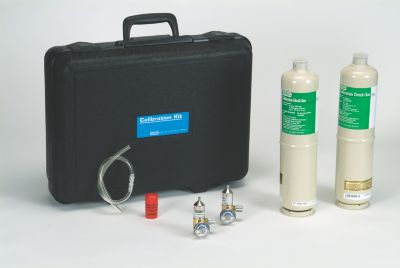 Calibration Kits
Simple, accurate calibration is easy with these economical, all-in-one kits. Choose from 14 different types for sensor and instrument calibration. Kits include zero and span cylinders, regulators, tubing, accessories and instructions. All kits housed in a lightweight carrying case, making it convenient to carry everything directly to the sensor location or job site.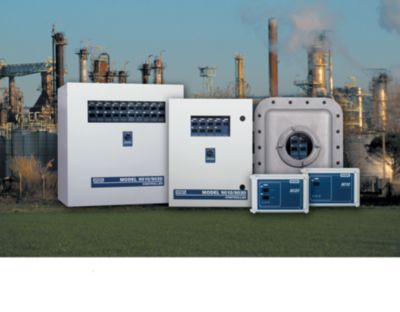 9010/9020 Controller
The 9010/9020 SIL controller comes with advanced design and innovative features for monitoring up to 20 channels. The 9010 controller operates with one independent sensor, while the 9020 operates with two independent sensors per control module. Each module comes with an independent AC/DC power supply for increased system reliability. Both units feature full internal diagnostics, which minimize false alarms and unexpected down time. The controller powers up the remote gas detectors, while its large four-digit LCD and LED provide crucial information such as gas concentration, alarm status and more. The 9010/9020 LCD controller monitors up to 20 channels and comes with an independent power supply. The LCD version has approvals for FM (North America) and CCCF (China) whereas the 9010/9020 SIL controller is ATEX and  SIL 2 certified.
Quad Gas® II Controller
Housed in a rugged, NEMA 4X enclosure, this microprocessor-based system links with up to four remote gas sensors. The large, four-digit LED display shows gas concentration and features four warning relays with one per sensor. The model also comes with four discrete alarm relays. Warning, alarm set-points and full-scale range of the sensor are set at the user-friendly keyboard, while a DC battery connection provides backup stability.