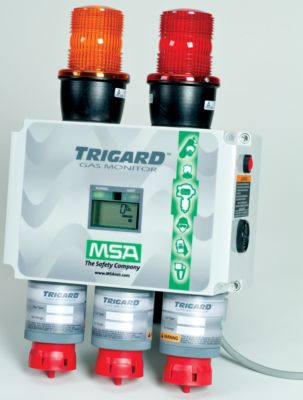 TRIGARD® Gas Monitoring System
Designed to meet a variety of demanding applications, from wastewater facilities, to light industry and commercial applications, the TRIGARD Gas Monitoring System features MSA's precision craftsmanship and detects chlorine, sulfur dioxide and other toxic and combustible gases. The adjustable-range unit also detects oxygen deficiency and enrichment. AC or DC powered, the system features a highly visible LCD screen and simple push-button calibration. Boasting sturdy NEMA 4X design and a single board, the unit offers multiple sensor mounting options. Our patented sensor disconnect-underpower feature allows all sensors to be replaced in hazardous areas without area declassification, while interchangeable smart sensors are pre-calibrated for installation right out of the box.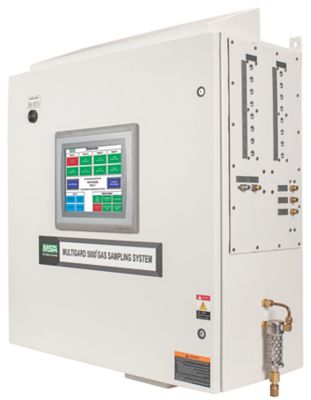 MultiGard™ 5000 Multipoint Gas Sampling System
The economical, efficient MultiGard 5000 Gas Sampling System uses auto-standardization and flexible sample point order to analyze gas from up to 32 locations. Maintenance and calibration are made easy because all the work is performed at a single location, while also ensuring personnel don't have to enter the monitored area. The unit directly connects to Modbus TCP/BACnet IP networks, which allows communication to other equipment or controllers. The system allows secure viewing at one's personal computer. The screen provides easy access to scroll-down menus and visual indicators of sensor condition.
Featured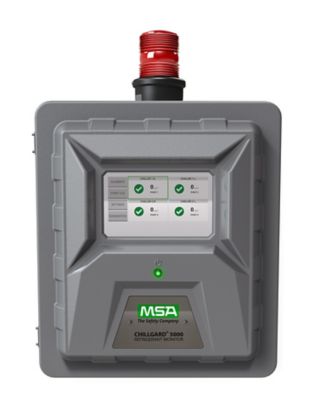 Chillgard® 5000 Refrigerant Leak Monitor
The Chillgard 5000 Refrigerant Leak Monitor provides the earliest level of detection of costly refrigerant gas leaks in mechanical equipment rooms. Sampling system with patented photoacoustic infrared (PAIR) technology detects leaks as low as 1 part per million (ppm). Intuitive, touchscreen user interface makes it easy to operate. Predictive maintenance and diagnostics keep you operational.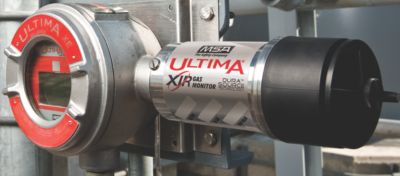 Ultima® XIR Gas Monitor
The microprocessor-based, infrared Ultima XIR gas detector is precisely engineered to continuously monitor for combustible gases and vapors. The unit features DuraSource Technology, which offers improved IR life, and a HART port for easy output access. The explosion-proof stainless steel monitor works indoors or outdoors and features infrared technology that eliminates the need for frequent calibrations. Its operations are based on dual-wavelength, heated-optics technology, which compensates for temperature, humidity and aging effects. The unit uses only one circuit board for increased reliability, and the sensor life isn't reduced by exposure to gas. The LCD screen provides scrolling information, while optional quick-check LEDs provide increased visibility.
Observer-i Ultrasonic Gas Leak Detector
Instantly detect pressurized gas leaks with this high-precision,  omni-direction acoustic detector utilizing Gassonic ultrasonic technology. Works even when traditional methods of gas detection are unsuitable or dependent on ventilation. Features Artificial Neural  Network (ANN) technology that distinguishes between real gas leaks and false  alarm sources without requiring any in-field training. The Observer-i UGLD provides an industry-leading detection range (up to 28 m) reducing the  number of detectors required. Ideal for use in complex, outdoor pipeline systems.
Discontinued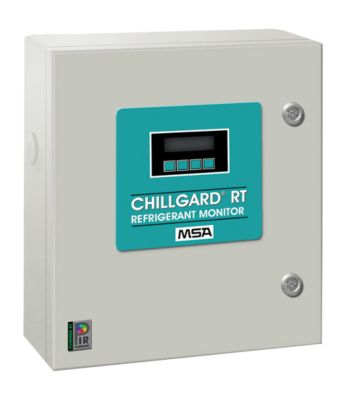 Chillgard® RT Refrigerant Monitor
Capable of detecting refrigerant gas down to 1ppm, the Chillgard RT Refrigerant Monitor is purpose-built to monitor up to eight remote areas — and is completely configurable to detect either a specific refrigerant or group of refrigerant gases. The Chillgard 5000 is the replacement for the Chillgard RT. See how easy it is to upgrade here.