RescueAire Portable Air-Supply System
The RescueAire II Portable Air-Supply System is designed to meet the needs of Rapid Intervention Teams (RITs). The system consists of a lightweight Carbon-Wrapped cylinder, Quick-Fill emergency breathing system, ExtendAire emergency breathing system, and an MMR regulator, supported by a flame and heat-resistant harness. The RescueAire II is a complete system that can provide emergency breathing air for most any victim and is available in both low-pressure (2216 psig) and high-pressure (4500 psig) versions.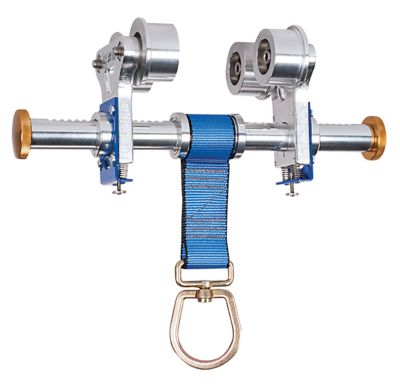 Beam Trolley
The Beam Trolley is a moveable anchorage connector designed to support either personnel or material. Trolley consists of a carriage with four wheels containing anti-friction bearings that are connected to aluminum housings and to a steel cross bar. Cross bar provides an anchorage point for attaching fall protection equipment. Trolley can be positioned anywhere along an overhead beam to provide mobility in a horizontal direction, and fits the support beam as specified by the user.