Featured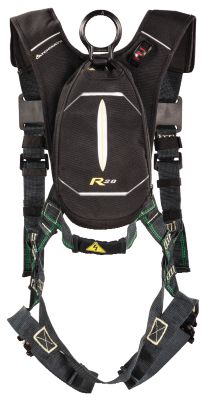 Latchways Personal Rescue Device®
The MSA Latchways® PRD is a lightweight, unobtrusive personal rescue device that is an integrated full body harness system for self-rescue. In the event of a fall the device lowers the person gently to the ground in a controlled descent.
Featured

Workman® Energy-Absorbing Lanyard
When free-fall distance can exceed two feet, use a lightweight, low-profile Workman® Energy-Absorbing Lanyard. The energy absorber not only limits force on the body in a fall, but also on the anchor location. The shock absorber includes a clear, durable protective cover over the labels to increase service life and allow for easy inspection.
Featured
Gravity® Temporary Horizontal Lifelines
MSA's newly enhanced Gravity Temporary Horizontal Lifelines offer unique, exclusive bypass shuttles enabling two workers to share a line and pass each other while maintaining 100% tie-off. The Gravity Temporary Synthetic Horizontal Lifeline, designed for easy installation and removal, suits many applications. System mounts to any suitable 5,000-lb-rated anchorage point and uses many standard components. Integral line tensioner helps to ensure proper lifeline tensioning.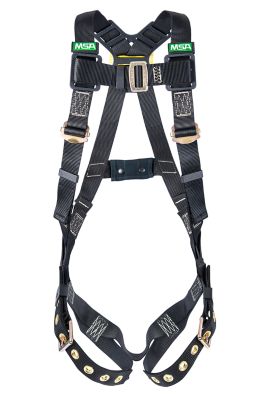 Workman® Harnesses
Quality, comfort, and value come together in the Workman line of products. Workman Full Body Harnesses feature lightweight components and durable webbing. For corrosive environments, the Workman® Stainless Steel Full Body Harness comes equipped with stainless steel hardware.  Stainless steel components are resistant to harsh environments so they maintain durability when used in corrosive environments.
Discontinued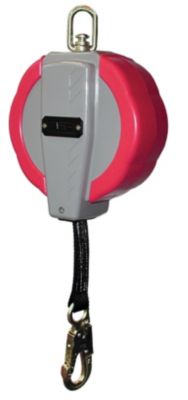 Aptura™ LT 30 Self-Retracting Lanyard
With its solid design and fast-acting brake mechanism, you can be confident that the Aptura™ LT 30 SRL will be there for you when you need it most. MSA has set a new standard in the mechanical fall protection market with the Aptura LT 30 Self-Retracting Lanyard (SRL). These features and more combine to deliver the lightest weight, most versatile SRL available on the market today.

Workman® Personal Fall Limiters
The Workman Personal Fall Limiter (PFL) and the Workman Twin Leg Personal Fall Limiter are two of the most versatile fall protection devices available on the market today. The Workman PFL has a fast acting brake mechanism and the Workman Twin Leg PFL offers a great alternative to twin leg shock-absorbing lanyards.
Latchways Sealed Self-Retracting Lanyards
The Latchways Sealed Self-Retracting Lifeline range offers a dependable means of fall protection and has been specifically designed for use in harsh environments such as oil rigs, wind turbines and other offshore applications.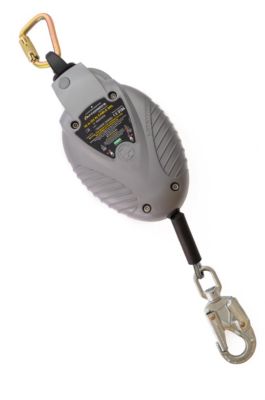 Latchways Standard Self-Retracting Lanyards
The Latchways Standard Self-Retracting Lanyard range offers a dependable means of fall protection and has been specifically designed for use in a number of different environments enabling an unhindered hands-free fall protection solution. Utilizing modern engineering and innovative design, they are the most advanced self-retracting lanyards on the market.
Latchways WinGrip® Vacuum Anchor
The Latchways WinGrip is a vacuum anchor fall protection system for use in aircraft manufacturing and maintenance, as well as a variety of other environments and industrial applications. WinGrip is safe and flexible, it can be used on the fuselage, stabilisers and wings; the system is quick to install, simple to use and is suitable for work inside the hangar and outside on the apron.