Featured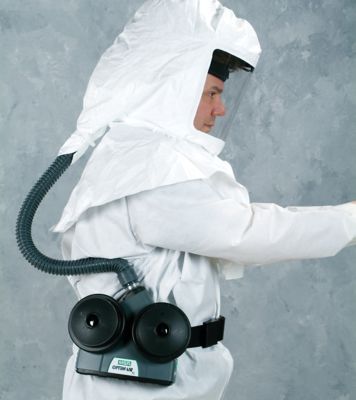 OptimAir® TL PAPR
The low-profile OptimAir® TL Powered Air-Purifying Respirator combines state-of-the-art design with superior "smart" features. The unit packages the motor blower, cartridges, and battery in a single hip-hugging design for lightweight comfort and fit. The low profile motor blower offers optimal airflow through a crushproof breathing tube, while the ergonomic battery pack allows for free movement within confined spaces. The unit automatically adjusts flow rates for altitude via an internal pressure sensor, while the cutting-edge design permits fast, accurate change-out of cartridges, hoods and batteries. The standard kit includes motor blower, smart charger, standard battery, hose, and decon belt.
Featured
Gravity® Temporary Horizontal Lifelines
MSA's newly enhanced Gravity Temporary Horizontal Lifelines offer unique, exclusive bypass shuttles enabling two workers to share a line and pass each other while maintaining 100% tie-off. The Gravity Temporary Synthetic Horizontal Lifeline, designed for easy installation and removal, suits many applications. System mounts to any suitable 5,000-lb-rated anchorage point and uses many standard components. Integral line tensioner helps to ensure proper lifeline tensioning.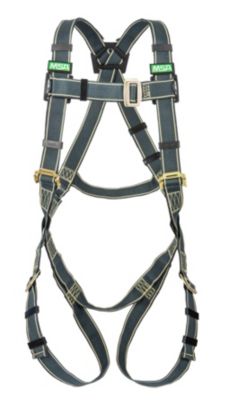 Gravity® Harnesses
Gravity series harnesses meet the needs of workers in specialty environments of specific work applications such as high heat, welding, corrosion, rescue, rigging and suspension. The  Gravity® Coated Harness uses a special urethane web coating to resist stains and wear and tear that are common when working in dirty environments.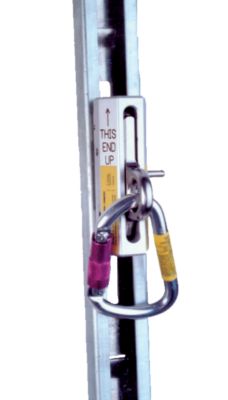 Dyna-Glide® Rigid Rail System
The Dyna-Glide® Rigid Rail Fall Protection System is used to arrest falls from heights where workers may be climbing up ladders, towers, or almost any structure. This rigid rail system enhances the way a climber is able to perform the necessary work. MSA rigid rail systems can be mounted to already-installed ladders, to corners of lattice towers, and to other suitably strong structures your crew needs to climb. Furthermore, using different MSA mounting assemblies, the Dyna-Glide rigid rail system can be attached to almost any structure that it's permissible to climb. MSA Rigid rail systems can be constructed to continuously protect climbers – whether they're traveling vertically, horizontally, or around curves, corners, or obstacles. For added performance, the MSA Dyna-Glide rigid rail system can be used by more than one person at a time.