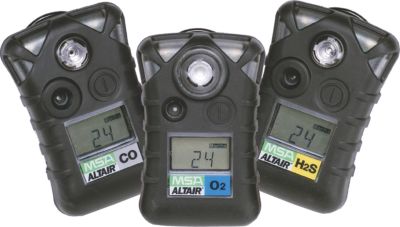 ALTAIR® Single-Gas Detector
Designed for superior lifespan—patented sensors operate for over two years—and high performance, the ALTAIR Single-Gas Detector is the smart choice for market-leading, cost-effective gas monitors. Features sensor options for carbon monoxide, hydrogen sulfide, and oxygen coupled with LED/audible/vibrating alarms. Superior dust/water protection, high RFI resistance, and one-button operation provide heightened safety, plus increased durability and ease-of-use.
Featured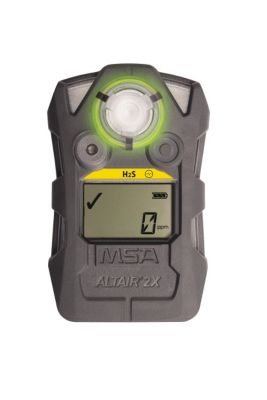 ALTAIR® 2X Gas Detector
 All ALTAIR 2X Gas Detectors * Incorporate proven XCell® sensor technology * Enhance worker safety, compliance and traceability * Minimize cost of ownership * Demonstrate rugged durability  Product Options * ALTAIR 2XP Gas Detector with XCell Pulse Technology: H2S  - * Features the first stand-alone bump test, which eliminates the need for bottled gas! * Bump test anytime, anywhere * Based on proven science and patented sensor capabilities * ALTAIR 2XP Gas Detector with XCell Pulse Technology: H2S * ALTAIR 2X Gas Detectors: CO, CO-HC (High Concentration), CO-H2 (Hydrogen Resistant), H2S-LC, SO2, NO2, NH3 and Cl2 * ALTAIR 2XT Two-Tox Gas Detector: CO/H2S, CO-H2/H2S, CO/H2S-LC, CO/NO2 and SO2/H2S-LC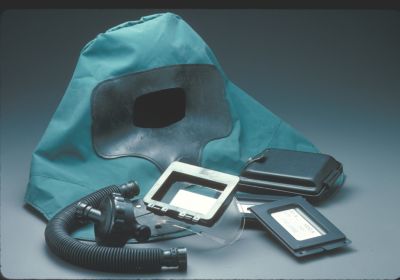 Abrasi-Blast™ Supplied Air Respirator
This supplied-air respirator provides respiratory and upper body protection for personnel engaged in abrasive blasting. Includes hood, face piece with lens housing, breathing tube, lens cartridge, flow-control device, air-supply hose, and support belts. Ideal for a range of applications including blasting operations.
left/RIGHT™ Headband Earmuff
The MSA left/RIGHT™ Ear Muffs have dedicated right and left ear cups that are designed to fit ears of all shapes and sizes which offers increased comfort and protection. The headband's breakthrough design simulates the head's curves to provide a comfortable and stable fit, balancing muffs with ear cup angle.
Discontinued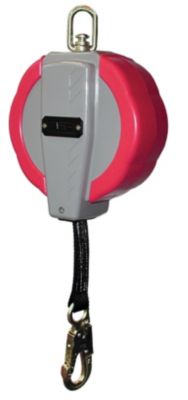 Aptura™ LT 30 Self-Retracting Lanyard
With its solid design and fast-acting brake mechanism, you can be confident that the Aptura™ LT 30 SRL will be there for you when you need it most. MSA has set a new standard in the mechanical fall protection market with the Aptura LT 30 Self-Retracting Lanyard (SRL). These features and more combine to deliver the lightest weight, most versatile SRL available on the market today.