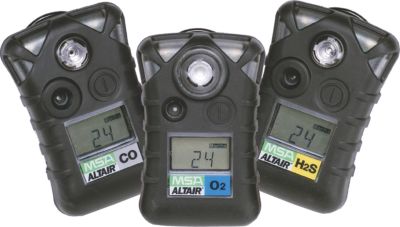 ALTAIR® Single-Gas Detector
Designed for superior lifespan—patented sensors operate for over two years—and high performance, the ALTAIR Single-Gas Detector is the smart choice for market-leading, cost-effective gas monitors. Features sensor options for carbon monoxide, hydrogen sulfide, and oxygen coupled with LED/audible/vibrating alarms. Superior dust/water protection, high RFI resistance, and one-button operation provide heightened safety, plus increased durability and ease-of-use.
Featured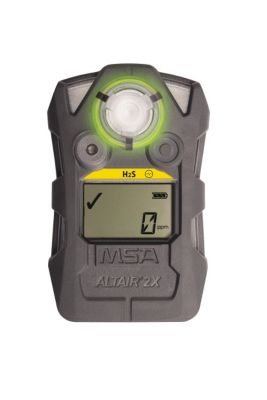 ALTAIR® 2X Gas Detector
 All ALTAIR 2X Gas Detectors * Incorporate proven XCell® sensor technology * Enhance worker safety, compliance and traceability * Minimize cost of ownership * Demonstrate rugged durability  Product Options * ALTAIR 2XP Gas Detector with XCell Pulse Technology: H2S  - * Features the first stand-alone bump test, which eliminates the need for bottled gas! * Bump test anytime, anywhere * Based on proven science and patented sensor capabilities * ALTAIR 2XP Gas Detector with XCell Pulse Technology: H2S * ALTAIR 2X Gas Detectors: CO, CO-HC (High Concentration), CO-H2 (Hydrogen Resistant), H2S-LC, SO2, NO2, NH3 and Cl2 * ALTAIR 2XT Two-Tox Gas Detector: CO/H2S, CO-H2/H2S, CO/H2S-LC, CO/NO2 and SO2/H2S-LC
ALTAIR® Pro Single-Gas Detector
Based on the industry-standard ALTAIR Single-Gas Detector—but with added features and functionality—ALTAIR Pro toxic gas and oxygen detectors combine reliable detection and LED/audible/flashing/vibrating alarms with clear, backlit LCD displays. Electrochemical sensors measure concentrations of toxic gas (chlorine dioxide, hydrogen cyanide and phosphine) or percent oxygen. Purpose-built for superior dust and water protection, excellent impact resistance and excellent RFI performance.
Featured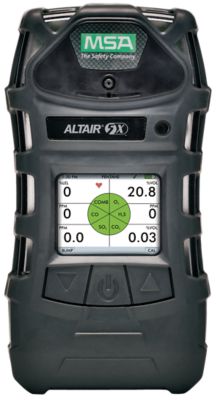 ALTAIR® 5X Multigas Detector
The ALTAIR 5X Gas Detector is capable of measuring up to 6 gases simultaneously and is now available with integrated PID sensor for VOC detection. Driven by advanced MSA XCell® Sensor Technology,  the ALTAIR 5X Gas Detector delivers  faster response time, better stability, accuracy, longer service life, and cost savings over the life of the instrument.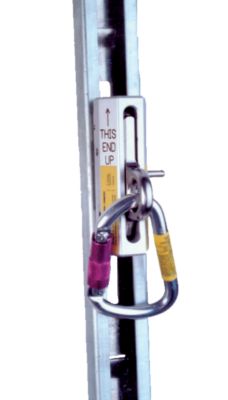 Dyna-Glide® Rigid Rail System
The Dyna-Glide® Rigid Rail Fall Protection System is used to arrest falls from heights where workers may be climbing up ladders, towers, or almost any structure. This rigid rail system enhances the way a climber is able to perform the necessary work. MSA rigid rail systems can be mounted to already-installed ladders, to corners of lattice towers, and to other suitably strong structures your crew needs to climb. Furthermore, using different MSA mounting assemblies, the Dyna-Glide rigid rail system can be attached to almost any structure that it's permissible to climb. MSA Rigid rail systems can be constructed to continuously protect climbers – whether they're traveling vertically, horizontally, or around curves, corners, or obstacles. For added performance, the MSA Dyna-Glide rigid rail system can be used by more than one person at a time.