RescueAire Portable Air-Supply System
The RescueAire II Portable Air-Supply System is designed to meet the needs of Rapid Intervention Teams (RITs). The system consists of a lightweight Carbon-Wrapped cylinder, Quick-Fill emergency breathing system, ExtendAire emergency breathing system, and an MMR regulator, supported by a flame and heat-resistant harness. The RescueAire II is a complete system that can provide emergency breathing air for most any victim and is available in both low-pressure (2216 psig) and high-pressure (4500 psig) versions.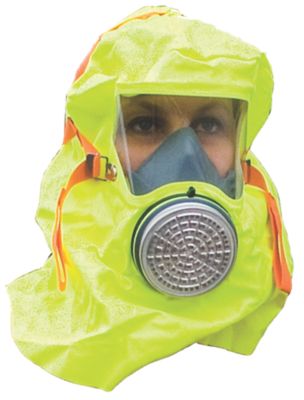 S-CAP Hood
This highly visible, one-size-fits-all yellow hood offers protection against smoke and gas from fires, especially carbon monoxide. The easy-to-use unit dons quickly and features a nose cup for a wide variety of head and face sizes, while the cotton neck seal ensures a tight fit. The high-performance filter offers thorough protection, while the wide lens provides an increased field of vision and the low breathing resistance reduces claustrophobia.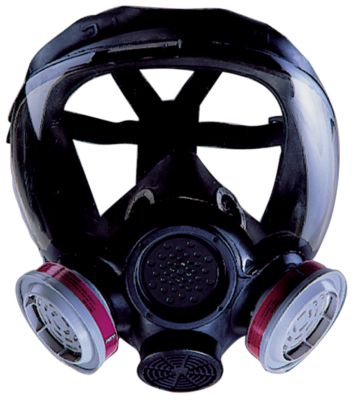 Advantage® 1000 Full-Facepiece Respirator
The low-maintenance, cost-efficient Advantage 1000 Full-Face Respirator provides top-notch protection without breaking the bank. The unit weighs 40% less than conventional full-face respirators and uses the same cartridges as the Advantage 200 LS respirator for additional flexibility. The Advantage 1000 respirator is constructed of soft Hycar rubber and features a wraparound flexible urethane lens that offers a comfortable fit with increased vision. The facepiece is available in three sizes and has a unique inturned lip that provides a strong seal. The unit also has a speaking diaphragm for clear, short-range communications and a nosecup to reduce lens fogging. The fully elastic, six-point head harness promotes quick donning and removal.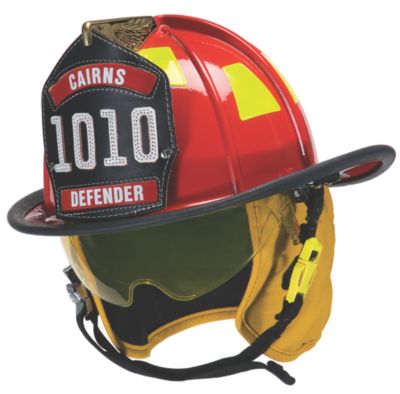 Defender® Visor for Cairns® 1010 and 1044 Helmets
The Defender Visor stays clean inside your fire helmet until needed for overhaul and non-IDLH search-and-recovery. Sleek and attractive design allows for fast, easy raising and lowering of the fire helmet visor even with gloved hands.