ZN002A Three Zone Control Module
The ZN002A is a Zone Control Module for the Zero Two Series Fire and Gas Detection System. The ZN002A provides zoning and voting functions for three separate and independent zones of gas and / or flame detection.
IN042 Four Zone Control Module
The IN042 is a four zone input module designed for use with two-wire field devices such as smoke or heat detectors, pull switches and manual callpoints. It is designed to monitor these devices and provide both status indication and fault / alarm outputs for each zone.
FM002A Facilities Module
The FM002A is a facilities module that provides a range of common facilities for all Zero Two control modules housed in the chassis. The FM002A is plugged into the last slot on the right-hand side of the Zero Two chassis. It may be daisy-chained allowing one FM002A to serve up to 100 Zero Two modules in any combination.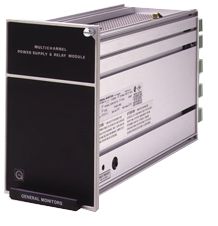 PS002 Power Supply
The PS002* power supply module provides sufficient power for 12 Zero Two Series Modules and their field devices. The PS002 slides into four channel slots and supplies the buss with +24 VDC. On the rear of the PS002, connections are provided for AC voltage in (line or neutral), for DC voltage in (battery backup), and for DC voltage out (+24 VDC). On the front panel there is a green LED for a Power ON indication. * Not available in Europe.