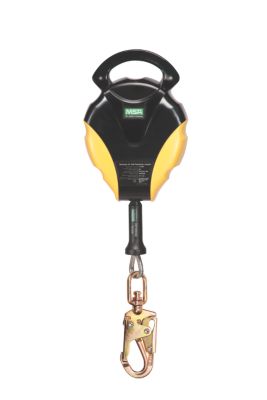 Workman® Self-Retracting Lanyard
MSA's new Workman SRL provides the best value for your money! With lightweight design and durable, thermoplastic housing with impact-absorbing bumpers, the Workman SRL will not only be accepted by users, but also provides years of dependable service. 

Workman® Personal Fall Limiters
The Workman Personal Fall Limiter (PFL) and the Workman Twin Leg Personal Fall Limiter are two of the most versatile fall protection devices available on the market today. The Workman PFL has a fast acting brake mechanism and the Workman Twin Leg PFL offers a great alternative to twin leg shock-absorbing lanyards.
RescueAire Portable Air-Supply System
The RescueAire II Portable Air-Supply System is designed to meet the needs of Rapid Intervention Teams (RITs). The system consists of a lightweight Carbon-Wrapped cylinder, Quick-Fill emergency breathing system, ExtendAire emergency breathing system, and an MMR regulator, supported by a flame and heat-resistant harness. The RescueAire II is a complete system that can provide emergency breathing air for most any victim and is available in both low-pressure (2216 psig) and high-pressure (4500 psig) versions.