My Greatest Accomplishment in Safety – Pete Englebert's Story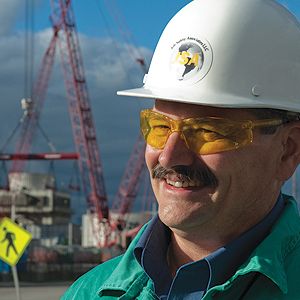 In a career filled with professional accreditations and certifications, Pete thinks his greatest accomplishment was getting his first Skullgard® industrial helmet.
One of Pete's jobs was looking after the safety of structural steel erectors. "I would go up in the steel with them," he recalled, "and they did not take very kindly to that." Pete figured he was their safety guy, he should work where they work. The ironworkers thought he belonged on the ground and threatened to show him the fast way down.
"I'm not sure they weren't half serious," he said.
Pete was undeterred. He had a job to do. If they wanted him off, they'd have to throw him off. Weeks turned into months. Resentment turned into respect; hostility became acceptance. "There was a union steward there who didn't climb anymore," said Pete, "he slid down a column one day, instead of going to a ladder." At the bottom, his foot wedged between the column and a piece of angle iron. He fell sideways, shattering his ankle. One day, the steward called to Pete from across the parking lot and hobbled toward him with something behind his back.
The steward told him to take off that blankety-blank red plastic company hard hat, then pulled a white Skullgard cap from behind his back. "The guys came up to me and said you should be wearing this," he said. It was the steward's old Skullgard helmet; the one he wore as a foreman.
It was in a bag beside him as he interviewed for an ESH/QA Manager position at a family owned business. There were eight divisions, each managed by a member of the family. All eight planned to interview Pete. For the first interview, a gentleman from the family asked, "What's your greatest accomplishment in safety?"
Pete put the helmet on the table and told the story. He was hired on the spot.
"I have worked all over this country and beyond. I have been in the antenna of the Willis (formerly Sears) Tower, on the launch pad at Kennedy Space Center, deep in mines, and on off-shore rigs. I have been a firefighter, a medic, and decorated for valor by our state governor. But being given the Skullgard by those guys was my greatest accomplishment in safety. MSA was a part of that moment. "

- Peter J. Engelbert CSP, RPIH, CHST, CET, CIT, CSSM, SNCS, CIP, NACE Certified Coatings Inspector - Level 3 (Nuclear/Bridge), BIRNCS Senior Nuclear Coatings Specialist
MSA will be part of another major accomplishment in Pete's life. When he retires, he plans to pass the helmet on to his son, Jim.